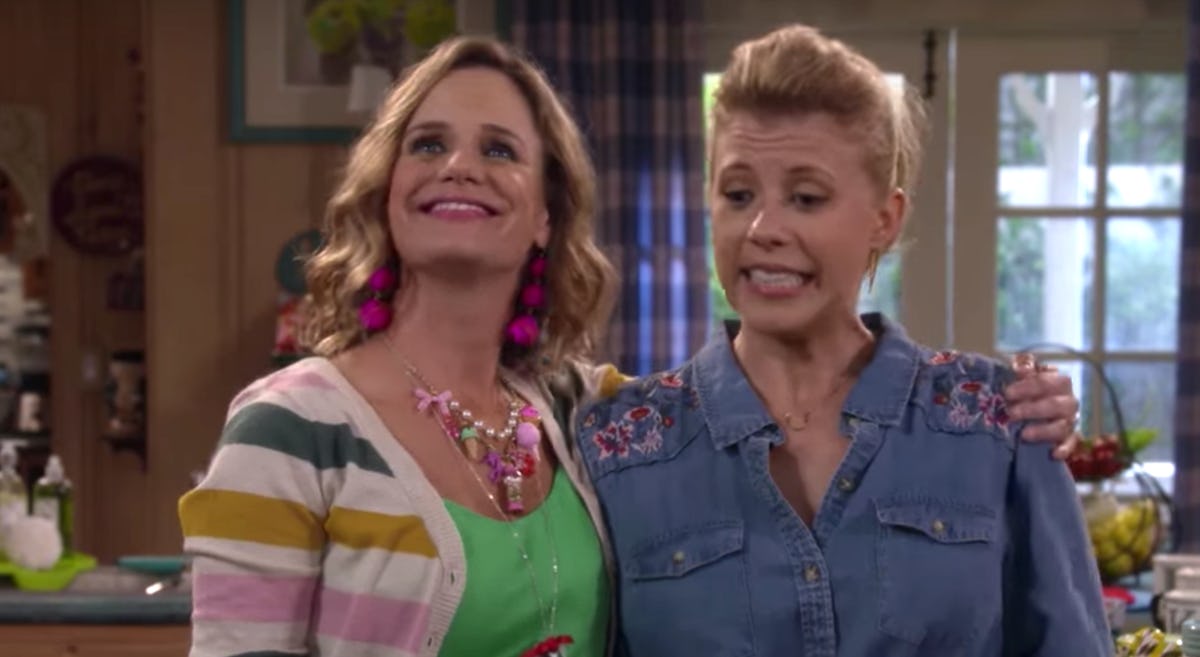 New 'Fuller House' Season 3 Trailer Proves We're In For Emotional New Episodes
Netflix
Weddings and babies and proposals, oh my! Fuller House fans are definitely in for a wild ride when the sitcom's third season returns on Netflix later this month, and the newly released trailer more than proves that. The second half of Fuller House Season 3 will be filled with major moments for DJ, Stephanie, Kimmy, and the rest of the Tanner clan, and it sounds like that might include a little Gibbler on the way. Let's break down everything you can expect from the new Fuller House Season 3 episodes coming your way in a couple of weeks.
Most pressingly, the nine new episodes will pick up right where we left off halfway through the season. The first half of Season 3, which dropped on Netflix on Sept. 22, ended with the whole Tanner crew on their way to Tokyo for the wedding of DJ's old flame Steve and his new fiancé CJ. Although DJ spent the whole string of episodes leading up to the big wedding reassuring CJ that her feelings for Steve were a thing of the past, the midseason finale found DJ unwittingly admitting to Steve that she was planning to choose him instead of her current boyfriend Matt, and that she still has feelings for him. So... we still have all that awkwardness to sort out. Oh, and also there's Stephanie's whole storyline about trying to get pregnant through in vitro fertilization, before her boyfriend Jimmy finds out and offers to be the baby's father.
So yeah — there are a lot of big things to tie up in the second half of this season, and the trailer for the new episodes (demarcated as "Season 3B") hints that there are a bunch more surprising twists on their way. Check out the full trailer for Fuller House Season 3B below:
Of course, the big thing we see in the clip is DJ struggling at the center of her love triangle: will Steve call off his wedding to be with her, or will Matt go through with his plans to propose to DJ before that? Whatever happens, it will all be going down in Tokyo, which looks like it will be the setting for a good chunk of the new episodes. The other major reveal in the trailer is Kimmy seemingly talking about getting pregnant again. That probably means that Kimmy and her husband Fernando are going to have another baby together; they already have a teenage daughter, Ramona.
The new episodes will also heavily feature old favorites from the original run of the series Full House in the late '80s and early '90s, including Bob Saget as Danny Tanner, Dave Coulier as Joey Gladstone, John Stamos as Jesse Katsopolis, and Lori Loughlin as Becky Donaldson-Katsopolis. But despite the increased appearances of the original cast, it still doesn't look like Full House fans are going to be seeing a grown-up Michelle Tanner any time soon. Portrayed by Mary-Kate and Ashley Olsen in the original series, Michelle is DJ and Stephanie Tanner's younger sister who has not shown up in Fuller House thus far. Obviously, the Olsen twins grew to become the biggest stars from the sitcom, and have stayed away from TV work for the past several years in favor of working in the fashion industry. Though the show reportedly wanted them back for Fuller House, it really does not seem like that is going to be happening any time soon.
The nine new episodes that make up Season 3B of Fuller House will be released on Netflix on Dec. 22, just in time for some holiday bingeing.