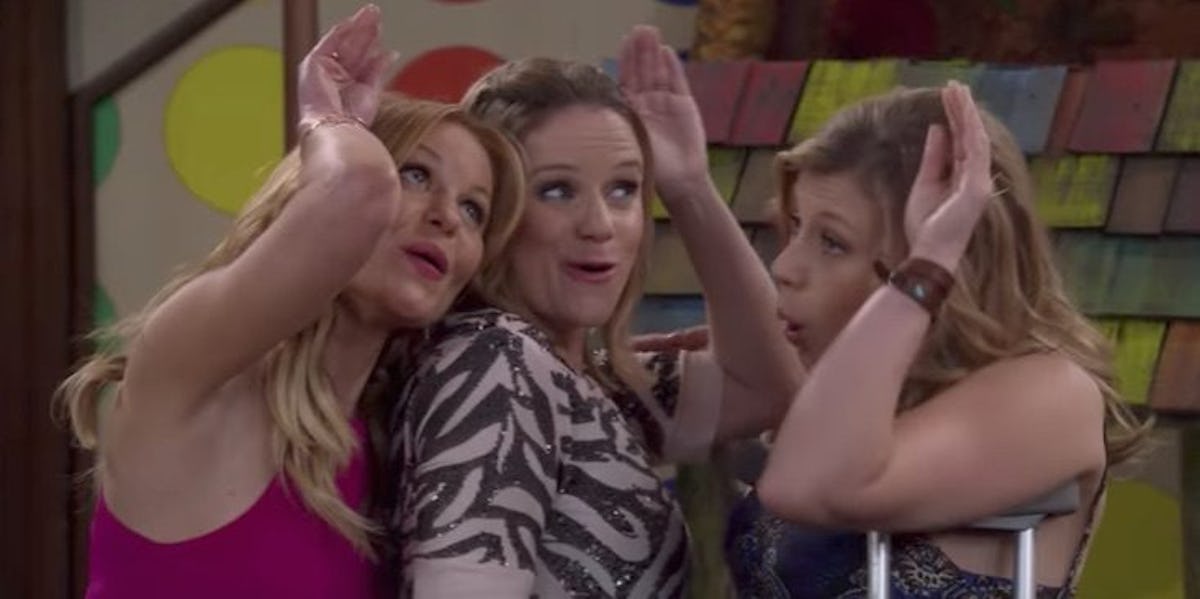 Everything You Need To Know About 'The Fuller House' 30-Year Anniversary Season
Netflix/YouTube
If you're a Fuller House devotee you might already be deep into a streaming hole of the Netflix series' third season. Who needs sleep, am I right? But if annoying things like work and getting that recommended eight hours of rest got in your way then you're probably chomping at the bit to reunite with one of America's most beloved TV families. Just be warned, Tannerito fans. While Season 3 of the show began streaming this Friday, it will be split into two parts. How rude? Not exactly. When does Fuller House Season 3 Part 2 premiere? We have the answer to that and more of your pressing questions about the show's latest installment.
When does Season 3 start streaming?
Season 3 is available now, and it began streaming on Sept. 22. And this date is verrrrry important (that was meant to be said in Michelle Tanner voice) because it's 30 years to the day from when Full House premiered. But... the season will not stream it its entirety. You will have to wait to see how it concludes when the second half of the season becomes available.
When does Season 3, Part 2 start streaming?
Don't fret, Fuller House fans. You won't have to sit tight too long to reunite with D.J. and the gang after the first nine episodes of Season 2 end. This isn't Mad Men or Game of Thrones. The second part, another nine episodes, will likely start streaming in December. This is pretty perfect considering it's just in time for all your holiday binging needs.
Who's back in Season 3?
All of the Tanners are under that famed San Fran Victorian's roof again. Well, minus Michelle. The Olsens will not be appearing in round 3 of the reboot and according to creator Jeff Franklin, he's over inviting them on even though they're welcome anytime. "I've stopped asking, really I kind of gave up," he told Us Weekly at Paleyfest Fall TV preview panel. "But when somebody rings a doorbell, the girls yell, 'It's always open!' on the show so that's kind of how we feel about the Olsen twins. The door is open."
But there are more familiar faces making a comeback to satisfy all your '90s needs. Gia (Marla Sokoloff), Steph's middle school bad girl BFF, returns as D.J.'s frenemy. And so is her daughter... Rocki. According to Jeff Franklin, the fresh face will be a "bad influence on the older kids, much like Gia was a bad influence on Stephanie growing up." It all comes full circle.
At the Paley Center Paleyfest Fall TV preview, it was revealed that Gail Edwards will also return as Vicky Larson. You may recall that Vicky was Danny's news anchor fiancee who left for a job in Chicago in Season 7. When asked about how she would have wrapped up their relationship, Edwards had an alternate proper ending in mind. "No, my fantasy would have been we got married and there would be another child coming ... And the show would continue on," she admitted in an interview on The Fuller House Podcast. Hmm. Same, Gail. Same.
What can we expect from Season 3, Part 2?
One big Season 3 revelation is that Steve is planning his wedding to C.J. and that the nuptials are set to go down in Japan. The cast actually filmed on location in Tokyo for scenes that take place in -- dun dun dun -- part 2.
"We know where D.J.'s heart is, but Steve doesn't. And I don't think D.J. is fully aware of how Steve may or may not be feeling. That big, messy situation will get resolved in the two halves of the season," Jeff Franklin told TVLine.
Whoa, baby. So much to take in. What will happen?! Better get crackin' on the first half of Season 3, guys, because the second half will be here before you know it.