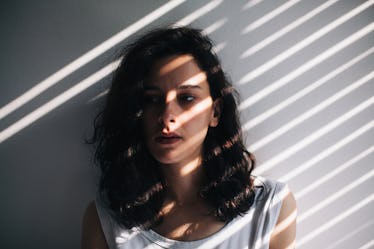 These 5 Little Things Might Explain Why You Wake Up Tired, Even After A Full 8 Hours
Getting a good night's sleep can turn a Monday into a holiday, if you do it right. After sleeping a solid eight hours, you probably expect that you're fully rested and ready to greet the challenges of the day — so why do you still wake up tired after a good night's sleep? It can seem like a math equation without a solution, especially when you've literally been sleeping for that whole time.
Unfortunately, all sleep is not created equal. If you wake up groggy even after a full seven or eight hours of rest, you might not be reaching all stages of your rapid eye movement (REM) cycle, which makes up 25 percent of your overall sleep cycle, and is responsible for helping your brain store new memories, as well as regulating your mood, according to the National Institute of Child Health and Human Development.
The bad news is that you have to admit you're still not feeling well-rested, even after all of that effort to get snuggled into bed by 9 p.m. But the good news is that all hope is not lost: There are a number of ways you can look into your poor sleep and hopefully find a solution. From the foods you eat, to the way you dress, to the overall environment of your sleeping location, there's more than one way to increase your restfulness, besides simply closing your eyes a little earlier each night.
Here are five reasons you might not feel rested after a good night's sleep, and what you can do to catch the shut-eye you want.