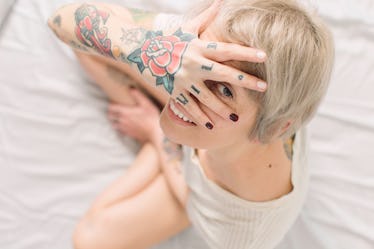 These 7 Things Might Be Making You Sweat While You Sleep, So Here's How To Cool Down
Have you ever woken up from a deep slumber, feeling incredibly well-rested, but also incredibly sticky? If it just so happens that, more often than you'd like to admit, you wake up in the a.m. with spots of your PJs soaked through, and little beads of perspiration on your forehead, chances are this isn't a situation of you being an overactive freak in the sheets (though, if that is what that means, more power to you). So, why do you sweat so much in your sleep, if it isn't a direct result of a healthy sexual appetite? Well, it turns out, Women's Health UK reports that 15 to 30 percent of women wake up drenched in the a.m. for a whole host of different reasons, from pajama problems to anxiety issues.
The good news is, it's not necessarily abnormal to experience the occasional night sweat. In fact, certified sleep science coach and founder of SleepZoo, Chris Brantner, tells Elite Daily that frequent night sweats in women can be a tell-tale sign of menopause. However, I'm going to assume if you're reading this article, you probably aren't quite there yet. So, if you're profusely sweating throughout the night, and it isn't because the female reproductive system is causing a bunch of heat waves to ball up and burst from the inside of your body and trickle out onto the surface of your skin in the form of water droplets, what's the deal?
According to Dr. Sam Rodgers, GP and medical director of Medichecks, night sweats can be defined as "sweating that is heavy enough to soak your bedclothes and/or bedding to the extent that you consider changing them in the middle of the night." It could be, he told Women's Health UK, due to a thick duvet, or having the heat on too high. But sweating all night, every night can also be concerning if it's a result of something psychological, like anxiety. To provide a little more insight, here are a few reasons why you might be experiencing extreme night sweats, and how to deal.