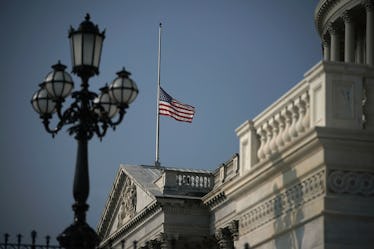 Here's Why Trump Reportedly Didn't Want To Lower The Flag For McCain
Alex Wong/Getty Images News/Getty Images
President Donald Trump has been getting massive backlash over the last couple days for not doing enough to honor the life of late Senator John McCain, who passed away on Aug. 25. In the aftermath of the senator's passing, drama has ensued over the White House raising and lowering the American flag as is usually done in times of national grieving. And the reason, reportedly, why Trump didn't keep the flag lowered for McCain is astounding.
The White House flag was initially lowered to half-staff upon news of McCain's Saturday night death. But it was quickly raised up again to its full height again on Monday morning, breaking with precedent of honoring significant national figures by keeping a flag at half-staff until burial. (By law, the White House did follow the bare minimum requirement, but the tradition has typically extended beyond this.) Facing backlash, Trump late Monday ordered the flag lowered again until McCain's interment. But according to a report Monday in The Wall Street Journal, Trump supposedly dragged his feet on lowering the flag because he felt that McCain was getting too much press coverage. Elite Daily reached out to the White House for comment on the report, but did not hear back.
Per the report, Trump had to be convinced by his own senior staff to lower the flag again. "It was 99 percent Sarah," one official told the Journal, referring to White House Press Secretary Sarah Huckabee Sanders.
The president overall has been remarkably resistant to publicly honoring McCain. While his White House staff offered their words on Twitter, even Trump's own daughter got around to making an official public statement before he did. Trump did tweet initially about the senator's death shortly after it happened on Aug. 25, expressing sympathy for the family. (He posted the same on Instagram.) But he was radio silent for two days after the fact.
And per The Washington Post, Trump rejected a planned statement praising McCain that was supposed to be released upon his death, preferring instead to honor the senator via his social media feed. Elite Daily reached out to the White House for comment on that report at the time but did not hear back.
McCain served in the Vietnam War in the 1970s, during which time he was held as a prisoner of war for five years, and returned to serve the U.S. House and Senate representing Arizona for over three decades. As a well respected icon of American politics both domestically and abroad, his death was met with nearly universal mourning. The White House seemed to be one of the few — and most noticeable — holdouts.
The image was stark in the nation's capital: Flags flew at different heights across different buildings.
It's no secret that the president was no fan of McCain's. The senator was a frequent critic of Trump's and made headlines when he famously thumbs-downed the GOP's "skinny repeal" bill to rollback the Affordable Care Act (ACA). McCain also stood firmly opposed to Trump on his decision to repeal the Deferred Action for Childhood Arrivals (DACA) program and was a staunch advocate for immigrant reform, and called Trump's zero-tolerance policy of separating families "an affront to the decency of the American people."
But whether Trump personally liked him or not, many felt it was beyond the pale for the president not to honor McCain's life per traditional decorum. (McCain is scheduled to be interred this coming Sunday at the U.S. Naval Academy Cemetery, so Trump was about a week early on raising the flag.)
There were also numerous reports by White House correspondents and reporters that the president was ignoring their questions about McCain.
Responding to mounting pressure, the White House Monday re-lowered the flag, and Trump signed a proclamation instructing all official governmental buildings to follow suit until Sunday.
As The Huffington Post pointed out, Trump's back-and-forth on the flag issue caused a big headache for government officials scrambling to keep up with his marching orders.
"Despite our differences on policy and politics, I respect Senator John McCain's service to our country," Trump said in a statement also issued Monday. He added that he'd instructed Vice President Mike Pence to deliver an address honoring the senator at one of this week's commemorative ceremonies, and members of his staff to appear at those events in his stead. The president himself does not appear be attending any of them.