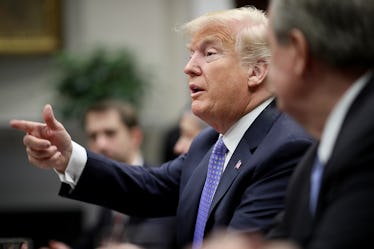 Donald Trump's Instagram Honoring John McCain Is Missing Something Very Important
Win McNamee/Getty Images News/Getty Images
On Saturday, Aug. 25 Arizona Senator John McCain died at the age of 81 from brain cancer. Following his passing, politicians took to social media to post touching tributes in honor of McCain, and many of them consist of either photos of them together or of just the man himself. Well, Donald Trump's Instagram honoring John McCain is definitely unlike the others, and maybe not for the better.
On Sunday, Aug. 26, Trump posted an Instagram as a tribute to the former Arizona senator, along with his condolences. On the surface, this seems like a kind gesture. However, the photo that Trump chose to use in the tribute post is actually just a photo of... Donald Trump. At no point is McCain seen anywhere in the Instagram tribute.
Trump's Instagram in honor of McCain is cringeworthy enough, but that's not the only faux-pas the president has committed since Saturday. Along with the Instagram, Trump reportedly chose not to send out an official White House statement praising McCain. Instead, Trump ultimately decided that a two sentence tweet directed towards McCain's family was enough. In fact, Trump used that short tweet as his official statement in the Instagram post.
Trump and McCain were not the best of friends. In fact, Trump made McCain a regular target of his attacks, including during a 2015 campaign rally in Iowa when Trump said that McCain, who was a decorated military veteran, shouldn't be considered a war hero because he was captured. "He's not a war hero," Trump said. "He's a war hero because he was captured. I like people that weren't captured."
Trump also slammed McCain's vote against repealing the Affordable Care Act (ACA) at his CPAC appearance in February 2018, saying that the repeal would have passed if not for "one senator who came in to the room at 3 o'clock in the morning and went like that," with a gesture imitating McCain's thumbs-down vote against the bill. McCain was the deciding vote against the "skinny repeal" bill to replace the ACA in July 2017.
McCain, for his part, was frequently critical of the president. In March 2018, he issued a statement slamming Trump for his friendliness with Russian President Vladimir Putin after Trump congratulated Putin's election victory, which had been criticized as fraudulent. "An American president does not lead the Free World by congratulating dictators on winning sham elections," McCain wrote.
McCain's death marks the loss of an extremely influential figure in American politics. Before serving in the U.S. Senate, McCain fought in the Vietnam War and was held as a prisoner of war for five and a half years, where he was repeatedly tortured. After his release in 1973, McCain turned to politics in the 1980s. He was first elected into the House of Representatives and eventually was elected as a senator representing Arizona, a role he held for three decades.
In July 2017, McCain was diagnosed with glioblastoma, an aggressive form of brain cancer. The senator underwent treatment for nearly a year before his family announced on Aug. 24 that he would be stopping treatments. A day later, on Aug. 25, the senator's office released a statement reporting that McCain had died that afternoon.
After the statement was released, politicians from all over expressed their condolences to the McCain family, and used the opportunity to praise the senator for all of his dedicated work over the years. President Barack Obama, who faced off against McCain during the 2008 presidential election, shared a heartfelt statement on Facebook about the Republican senator. In the post, Obama acknowledged that he and McCain came from different generations, but he also emphasized their shared dedication to bettering the United States and praised McCain's unwavering courage.
In addition to Obama's post, Vice President Joe Biden also shared a touching statement in honor of McCain. In his post, Biden refers to McCain as a "friend," and praised the Arizona senator for his "character, courage, integrity, and honor."
The first part of the statement read,
John McCain's life is proof that some truths are timeless. Character. Courage. Integrity. Honor. A life lived embodying those truths casts a long, long shadow. John McCain will cast a long shadow. His impact on America hasn't ended. Not even close. It will go on for many years to come.
Social media posts may be fleeting, but the influence McCain left on the United States will last a lifetime.