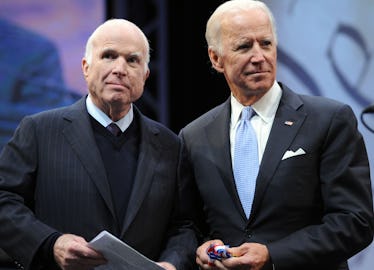 Joe Biden Remembered "Friend" John McCain With A Very Heartfelt Message
William Thomas Cain/Getty Images News/Getty Images
It was announced on Saturday, Aug. 25 that Arizona Senator John McCain died after a long battle with an aggressive form of brain cancer, and many remembrances are pouring in. Joe Biden's message about John McCain's death remembered his friend for putting "country first." In a message shared to Twitter, Biden prefaced his lengthy statement with a caption that read, "John McCain was many things – a proud graduate of the Naval Academy, a Senate colleague, a political opponent." Furthermore, Biden wrote, "But, to me, more than anything, John was a friend. He will be missed dearly."
The spirit of their friendship seemed to run throughout Biden's message about the senator on Saturday. Biden began,
John McCain's life is proof that some truths are timeless. Character. Courage. Integrity. Honor. A life lived embodying those truths casts a long, long shadow. John McCain will cast a long shadow. His impact on America hasn't ended. Not even close. It will go on for many years to come.
Detailing McCain's hardships, Biden continued,
As a POW, John endured the worst of what human beings can do to one another. In politics, he fell short of his greatest ambition. At the end of his life he faced a cruel and relentless disease. And yet through it all he never lost sight of what he believed most: Country First. And the spirit that drove him was never extinguished: we are here to commit ourselves to something bigger than ourselves.
McCain, of course, was taken as a prisoner of war in Vietnam in 1967, and he was held captive for five and a half years. Biden recognized how the senator took on that torturous experience with "the spirit that drove him." McCain experienced other hardships in his life, like losing the 2008 presidential election to President Barack Obama and his running mate, Vice President Joe Biden. But most recently, McCain was dealt a blow in July 2017 when he was diagnosed with glioblastoma, an aggressive form of brain cancer, per ABC News.
Through it all, Biden recognized that the senator put "country first" thanks to his "spirit" that was "never extinguished." Biden seemed to view that as McCain committing himself to "something bigger" than himself. One of those instances happened in the July 28, 2017 when McCain voted against a repeal of Obamacare in the early morning hours on the Senate floor, per USA Today.
The "maverick" senator who was known for crossing party lines had a strong friendship with his 2008 vice-presidential opponent. Biden acknowledged their friendship,
John was many things – a proud graduate of the Naval Academy, a Senate colleague, a political opponent. But, to me, more than anything, John was a friend. America will miss John McCain. The world will miss John McCain. And I will miss him dearly.
It's no surprise that the colleagues who spent 30 years together as civil servants in the Senate struck up a friendship, and Biden detailed their bond during a December 2017 appearance on The View, per ABC News. Speaking to Meghan McCain (McCain's daughter), Biden shared on the program,
Her dad is one of my best friends. Her dad goes after me hammer and tongs. We're like two brothers who were somehow raised by different fathers because of our points of view ... I know if I picked up the phone tonight and called John McCain and said, 'John, I'm at 2nd and Vine in Oshkosh and I need your help. Come,' he would get on a plane and come. And I would for him, too.
Finally, Biden's Saturday message to the McCain family read, "On behalf of myself, Jill, and the entire Biden family, our sincerest condolences go out to Cindy, Doug, Andy, Sidney, Meghan, Jack, Jimmy, Bridget, and the entire McCain family."
Well wishes are pouring out to the McCains from all over the world of politics in the wake of McCain's death, and Biden joins the ranks of many who are remembering the senator as a friend and respected colleague.