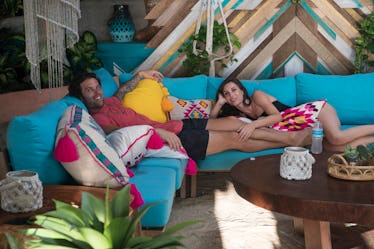 Here's The Reason Behind Astrid & Kevin's Emotional 'Paradise' Breakup
ABC
Astrid Loch and Kevin Wendt becoming the unofficial mom and dad of Bachelor in Paradise was an unexpected highlight of Season 5. Two relative unknowns in the franchise fell for each other on the beach, which inevitably happens every year of Paradise, but when has this kind of relationship ever been such a delight to watch? These two lovebirds seemed like such a solid pair with their calm conversations and 12-month plan, so why did Kevin and Astrid break up on Bachelor in Paradise? In the end, Kevin was nervous about their real-life differences badly affecting their relationship.
Bachelor Winter Games star Kevin has had a rough few episodes thanks to him witnessing his ex Ashley Iaconetti getting engaged to fellow Paradise alum Jared Haibon. What could've become an explosive moment turned nurturing and sweet when Kevin saved his conflicting feelings about the proposal for a chat with Bachelor Season 21 contestant Astrid. Ever since he opened up about his worries of how their relationship would fare IRL, Astrid has wisely taken on a very comforting approach to Kevin and his anxieties. She and Kevin seemed to have cracked the code for a successful Paradise relationship, but Kevin's mindset then played a part in their shocking decision to break up before accepting a fantasy suite date.
Leading into the final day of Paradise, Astrid was open to the idea of Kevin proposing, telling the camera, "I never thought I would even be in a situation where I'd even be considering engagement. I don't need to get engaged, but I feel like if he asked me, I wouldn't say no."
Well, ICYMI, you're an independent, beautiful queen either way, Astrid.
Meanwhile, former Bachelorette Canada finalist Kevin was reeling as a result of being away from his regular therapist, which he vented about earlier in the season. With the end of their vacation in sight, doubts about his and Astrid's actual lifestyles successfully syncing were creeping into Kevin's mind. Even though he felt their relationship was stronger than anyone else on the beach, Kevin panicked about the thought of entering another fantasy suite and proposing too soon.
"Personality-wise, we're perfect," he told Astrid ahead of the fantasy suite decision. "But lifestyle-wise, I don't know. I think you are the brightest star I've ever met, in so many ways. But something's missing."
When he's not helping other Paradise contestants recover from their own breakdowns, Kevin is a firefighter in Toronto. Listed as a plastic surgery office manager from Tampa, Florida, on Nick Viall's Bachelor season, Astrid's LinkedIn page states she's a "dedicated patient care coordinator." They aren't quite perfectly compatible careers, but what happened to that 12-month plan you guys made, Kevin?
Kevin's insecurities about their relationship surviving off camera stem from his failed relationships with Canadian Bachelorette Jasmine Lorimer and Winter Games co-star Ashley I. His fears are perfectly logical, but with the possibility of an engagement lurking in every corner on the Paradise beach, Kevin broke up with Astrid, who was left "mind-boggled" and blindsided.
Feeling that she had done all she could to help him, Astrid left Kevin behind. While she managed to stay composed as she packed, Kevin sobbed on the beach. He admitted he should've shared even more of his feelings with her, and his sad minivan exit was accompanied by thoughts of feeling that he "crushed" Astrid. Meanwhile, Astrid cried about Kevin not being ready for this step in a relationship, despite him vocalizing the complete opposite viewpoint.
Wait, but Mom and Dad aren't splitting for real, right? Fingers crossed that we'll get a happier update about these two on the Paradise reunion show. Part 2 of the Bachelor in Paradise Season 5 finale begins on Tuesday, Sept. 11, at 8 p.m. ET on ABC.