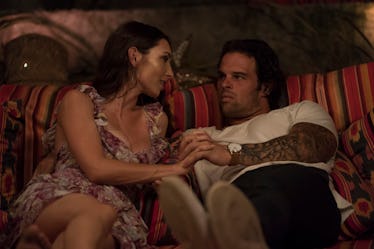 Bachelor Nation Is So Confused After Kevin Confronted Astrid On 'Paradise'
ABC
Until now, Kevin Wendt and Astrid Loch's relationship on Bachelor in Paradise has been relatively calm and uneventful. Similar to last season's Derek and Taylor, they clicked early on (that is, after Kevin had a brief flirtation with Krystal Nielson) and have cuddled in the background ever since. With many other relationships changing so easily as the season progresses, Kevin and Astrid have been a solid match, but Kevin's peculiar request in Episode 6 has caused trouble in their own paradise. Tweets about Kevin and Astrid's conversation on Paradise prove that Bachelor Nation is totally confused about Kevin's mindset right now, but thankfully, the confusion was short-lived.
Kevin has made quite the name for himself in Bachelor Nation within the last year, appearing on Bachelor Winter Games soon after becoming engaged on the first season of The Bachelorette Canada. On Winter Games, he began a relationship with frequent Paradise contestant Ashley Iaconetti, but her real-life connection with Paradise friend Jared Haibon led her to end the relationship. At the beginning of this Paradise season, Kevin suggested that Ashley had cheated on him with Jared, and while the specifics of that scenario are a little uncertain for fans, any harsh feelings about Ashley didn't affect Kevin's ability to connect with Astrid, who was mostly a background player on Nick Viall's Bachelor season.
After virtually no solid screen time together, Kevin took the next step in their relationship on Episode 6, asking Astrid to be his girlfriend. However, he quickly complicated things by wishing aloud that she went on a date with another guy, saying, "I'm really enjoying these past seven days with you. I feel like seven days could turn into 70 years, except I kind of want you to go on a date with another guy... Every guy that comes in here knows there's a big 'X' across you, like, 'She's taken.' It doesn't really push my boundaries."
Astrid wasn't buying his explanation, walking away from Kevin during the conversation and emotionally mumbling that she wanted to go home. Whether you interpret Kevin's feelings as a cop-out or a genuine desire for a challenge, fans on Twitter definitely have strong thoughts about his confession. Spoiler alert: no one's too happy with Kevin.
Kevin followed Astrid, who wondered why Kevin couldn't just understand that she liked him. Kevin's insecurities about his past franchise experiences, such as experiencing a Bachelorette engagement in the real world and it going poorly, affected his view of their current relationship. In an odd breaking of the fourth wall, he subtly referenced his disappointing Bachelorette Canada and Winter Games experiences and how he didn't want a relationship with Astrid to take the same path. Thumbs up for turning this conversation around, Kev! The Canadian firefighter quickly fell back in good favor with Bachelor Nation online.
With Astrid instantly understanding Kevin's perspective, the two quickly kissed and made up, finally providing us with some satisfying relationship fodder on Paradise. Astrid called themselves lucky for finding each other, and Kevin admitted to the camera that he was falling in love with her. Cue Bachelor Nation's collective heart eyes!
ABC, please give us more of Kevin and Astrid and less black boxes on swimsuits and rants from Jordan. Fingers crossed that they keep going strong as the season continues!
Bachelor in Paradise continues on Tuesday, Aug. 28, at 8 p.m. ET on ABC.