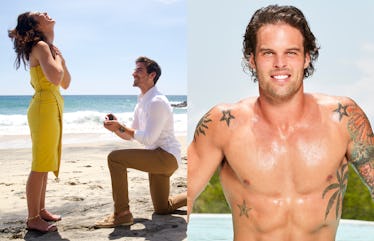 Bachelor Nation Feels For Kevin After Watching Ashley & Jared's Engagement
ABC
This season of Bachelor in Paradise has admittedly made me miss Bachelor Winter Games more than I thought I would, and while it isn't contestants from around the globe bonding while wearing cozy sweaters in Vermont, some Winter Games drama has now spilled over onto Paradise. Ashley Iaconetti and Jared Haibon returned to Paradise for Jared to surprise Ashley with a proposal, and Ashley's Winter Games ex Kevin Wendt witnessed it all. These tweets about Kevin's reaction to Ashley and Jared have totally captured Bachelor Nation's mood about this controversial decision.
After finishing the inaugural season of Bachelor Winter Games as a couple, Kevin and Ashley broke up less than a month after the season finished airing in February. At the time, the two were open about the terms of their split, with Ashley saying that on The Ben and Ashley I. Almost Famous Podcast that there was just a "little something missing" between them. Kevin joked on the podcast that he was "friend-zoned," but he seemed supportive of the decision to split.
However, when Ashley announced her relationship with former Paradise flame Jared in May, the couple became an awkward topic of discussion for Bachelorette Canada's Kevin as he was heading onto Season 5 of Paradise in early June. At the start of the season, which was obviously filmed before Jared and Ashley's engagement on the Paradise beach, Kevin suggested that Ashley had cheated on him with Jared, a claim that Ashley seemed to admit to on her podcast.
So, imagine how uncomfortable it must've been for all three of these people when Kevin, along with the rest of the Paradise cast, witnessed Jared proposing to Ashley.
Although he's in a solid Paradise relationship with Astrid Loch, Kevin walked away after the proposal, admitting to Astrid that Ashley coming to Paradise when he was doing well there didn't sit right with him. The two agreed that the moment was pretty awkward — in what other reality would you watch your ex get engaged? However, proving they're a steady pair, Astrid understood that Kevin wasn't totally over being cheating on and didn't take his feelings as personal attacks against her. Um, why were we robbed of her wisdom on Nick Viall's season?
Kevin also wondered aloud if Ashley's relationship with him was meant as a method to win Jared's attention. His discomfort and Jared and Ashley crediting their relationship to "timing" and dancing around Kevin's presence particularly inspired fans to tweet their own opinions about the awkward situation.
Calling himself a "monumental part" of Ashley's dating life, Kevin admitted to feeling deflated, while Astrid kept her deeper worries to herself. She even admitted that she didn't congratulate Ashley after the proposal. However, things took a sunny turn for the couple when Kevin was given a date card, scoring himself and Astrid a night away from the beach. His date probably came as a delayed request of Ashley and Jared, as Ashley revealed on Twitter that they had no power over Kevin witnessing the proposal.
While they couldn't help the drama that unfolded during the day, Kevin and Astrid's moods definitely shifted on their date. The two essentially confirmed how serious they are about each other, giving us another heartwarming love story on top of a long-awaited proposal. Regardless of how fans felt about Jared and Ashley, seeing Kevin and Astrid finally have some alone time inspired tweets about how great this newer couple is.
Kudos to both of these happy couples. They took an awkward situation and made the best of it on both of their ends. Bachelor in Paradise continues on Tuesday, Sept. 4, at 8 p.m. ET on ABC.