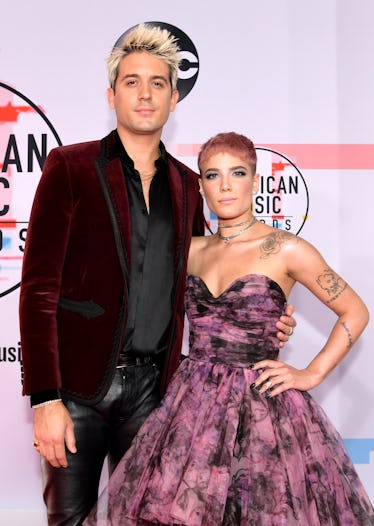 The Reported Reason Why Halsey & G-Eazy Broke Up Again Is So, So Disappointing
Emma McIntyre/Getty Images Entertainment/Getty Images
Halsey and G-Eazy have reportedly pulled the plug on their relationship again. The singer confirmed on her Instagram back in July that the pair were "taking some time apart," but then they got back together not long after. According to People, however, the couple have broken up for the second time as of Oct. 24. So why did Halsey and G-Eazy break up again? They were gushing over each other while on a romantic Italy vacation for Halsey's birthday just last month, so how did things go south so fast?
A source told People that the rapper and singer split because G-Eazy didn't care about women being all over him at parties. "It's over again for now," the source said, "He was partying over the weekend and girls were all over him. He didn't care who saw." Elite Daily reached out to Halsey and G-Eazy's teams for comment about the reported breakup and the reason behind it, but did not hear back by the time of publication.
Another source told E! News that G-Eazy's behavior was the reason for the split. "G-Eazy and Halsey were doing well until a couple of days ago when G-Eazy performed at the Karma International party in Los Angeles on Saturday and was flirting with several girls in public," the source said. Elite Daily reached out to Halsey and G-Eazy's teams previously for comment on this report, but did not hear back by the time of publication.
Honestly, I'm not surprised that this is the reported reason they broke up. One listen of Halsey's new single "Without Me" makes it pretty damn clear that homegirl was on her last bit of patience for putting up with bullsh*t in relationships. G-Eazy shoulda known.
She revealed in an interview about the single that writing "Without Me" is what made her realize she needed to break up with him in the first place.
"I have to be honest, [writing "Without Me"] led me to my decision [to break up with G-Eazy] at that time," Halsey said in an interview with Zach Sang released on Oct. 8. "I listened to what I wrote and went 'Oh my god, is that how I feel? If that's how I feel I need to put the pause on this thing right now. I'm obviously talking about my relationship. So the song happened first. And it was, just like, this moment of like sincerity."
Halsey revealed on her Instagram in July that she and G-Eazy had broken up. "I normally keep this kind of thing private but provided our public nature I feel the need to inform my fans. G-Eazy and I are taking some time apart," she said on her Instagram story at the time. "I'm eager to continue the upcoming passage of time dedicating myself to my art and my career, and the duration of my tour. I wish him the best. Thanks for respecting our privacy at this time."
After reports of their breakup surfaced, Halsey tweeted about needing to learn to accept and live with the coexistence of happiness and sadness. She tweeted,
reminder to self: happiness is not a replacement for misery. it's an addition. pain will always be there. but that's okay. u allow happiness to join as another option. so when the time comes, it's there waiting, existing; a possibility for when you're ready to choose.
She tweeted again, saying,
@ me: life is not pain vs happiness. one does not replace the other. they exist together. happiness doesn't arrive as a replacement. it arrives to assist u in carrying the weight of the pain.
Her last tweet said, "@ me: now remember that u dummy." Same.