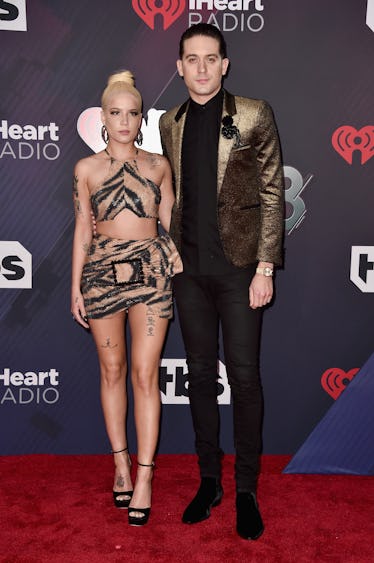 Halsey's Cryptic Tweet May Be A Hint About Her Reported Split From G-Eazy
Alberto E. Rodriguez/Getty Images Entertainment/Getty Images
Halsey is opening up following her reported breakup from on-again/off-again boyfriend G-Eazy. The 24-year-old singer took to her Twitter account in the early morning hours of Wednesday, Oct. 24 to express how she was feeling in a series of tweets. Halsey's tweets after her reported breakup with G-Eazy are surprisingly positive and show that she's doing all she can to work through whatever romantic troubles she's currently experiencing.
"Reminder to self: happiness is not a replacement for misery. It's an addition. Pain will always be there. But that's okay. U allow happiness to join as another option," Halsey wrote in a tweet. "So when the time comes, it's there waiting, existing; a possibility for when you're ready to choose."
The tweet came just hours after People reported on Oct. 23 that Halsey and her boyfriend G-Eazy had broken up for the second time this year. Elite Daily reached out previously to Halsey and G-Eazy's teams for confirmation of the breakup reports, but did not hear back by the time of publication.
In a second tweet, Halsey continued addressing herself. "@ me: life is not pain vs happiness. one does not replace the other. they exist together. happiness doesn't arrive as a replacement. it arrives to assist u in carrying the weight of the pain," she wrote. She concluded her series of tweets with, "@ me: now remember that u dummy."
So, it sounds like Halsey is trying to prepare herself for a future in which she must balance pain and happiness. And that, I must admit, kind of seems like she's dealing with a fresh breakup. Whatever the case is, it's still a somewhat positive mindset to have given how difficult the situation must be behind the scenes.
Check out Halsey's tweets down below:
If People's Oct. 23 report is to be believed, then the relationship between Halsey and G-Eazy is truly over. In People's report, a source close to the situation revealed that the couple broke up this weekend.
"It's over again for now," the source told People. "He was partying over the weekend and girls were all over him. He didn't care who saw." People also reported that Halsey and G-Eazy unfollowed each other on social media and that's never a good sign. The reports of a breakup surfaced just after G-Eazy gave an interview about Halsey to E! News at 97.1 AMP RADIO's 6th Annual We Can Survive concert.
"I mean, she's an incredible artist," he told E! News on Monday, Oct. 22. "She's really inspiring to watch work, you know what I mean?"
In his interview with E!, he continued to say nothing but great things about Halsey. "I've been blessed and fortunate enough to get in the studio with a lot of artists that I admire, but she's one of those that when you hear her voice come through live from the booth, it's one of those, it just hits you right away. It's pure," he said.
So, G-Eazy was gushing over Halsey just 24 hours before news of their split broke. Even though the relationship doesn't seem to be working out for them right now, Halsey and G-Eazy do have a certain level of respect for each other professionally. And they definitely try to honor that when they can, as is evidenced by G-Eazy's comments here.
In any case, I hope they can treat this situation with the same level of maturity and respect! And who knows, maybe they'll even work things out in the future (again!).