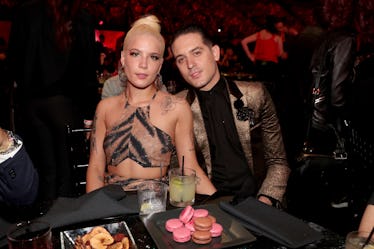 Halsey & G-Eazy Have Reportedly Split Again, So Love Is Officially A Lie
Christopher Polk/Getty Images Entertainment/Getty Images
It's only been two months since G-Eazy and Halsey reconciled after their break over the summer. And now they've reportedly split once again. Yep, according to People, Halsey & G-Eazy broke up again, so it's a sad day for all the fans who were rooting for them this time.
Elite Daily reached out to G-Eazy and Halsey's teams for comment on the Breakup reports, but did not hear back by the time of publication.
On Tuesday, Oct. 23, People published a report in which a source revealed that Halsey and G-Eazy had reportedly split up over the weekend.
"It's over again for now," the source told People. "He was partying over the weekend and girls were all over him. He didn't care who saw."
According to People's report, the two musicians unfollowed each other on social media, which is usually an indicator that some unpleasant news is about to follow. It's interesting, though, because G-Eazy literally just gave an interview where he gushed about how inspiring of an artist Halsey is.
"I mean, she's an incredible artist," G-Eazy told E! News at 97.1 AMP RADIO's 6th Annual We Can Survive concert. "She's really inspiring to watch work, you know what I mean?"
So, as late as Monday, Oct. 22, G-Eazy was giving no indication that the romance had gone awry.
"I've been blessed and fortunate enough to get in the studio with a lot of artists that I admire, but she's one of those that when you hear her voice come through live from the booth, it's one of those, it just hits you right away. It's pure," he continued in his interview with E! News.
The news of this second breakup comes three months after Halsey confirmed their initial split in July 2018. At the time, the 24-year-old singer confirmed via Instagram that she and her rapper boyfriend had split.
"I normally keep this kind of thing private but provided our public nature I feel the need to inform my fans. G-Eazy and I are taking some time apart," she wrote at the time. "I'm eager to continue the upcoming passage of time dedicating myself to my art and my career, and the duration of my tour. I wish him the best. Thanks for respecting our privacy at this time."
But just about a month later, in August 2018, the two sparked reconciliation rumors while attending an after-party for the MTV Video Music Awards. Since everything seemed so cozy between them after that, fans naturally assumed that everything was going well between Halsey and G-Eazy.
Apparently not, though, since G-Eazy was reportedly seen partying with other women over the weekend. In a new report from E! News, an insider further confirmed that G-Eazy's behavior was the reason for the reported breakup.
"G-Eazy and Halsey were doing well until a couple of days ago when G-Eazy performed at the Karma International party in Los Angeles on Saturday and was flirting with several girls in public," E! News' source said. Elite Daily reached out to Halsey and G-Eazy's teams for comment on the report, but did not hear back by the time of publication.
While reports of the breakup are pouring in, neither Halsey nor G-Eazy has confirmed the split or the reasons for it. I suppose it's a good time to reserve judgment and wait for the parties involved to confirm the status of the relationship. In the meantime, I hope they each have the support they need at this time.