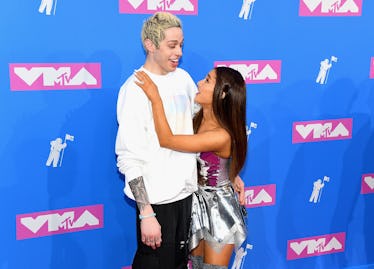 The Reported Reason Why Ariana Grande & Pete Davidson Broke Up Is Sad, But Understandable
Nicholas Hunt/Getty Images Entertainment/Getty Images
Welp, it happened. The thing we all thought would happen, but hoped wouldn't, happened. Ariana Grande and Pete Davidson reportedly broke up. You can step off the roller coaster now, people! The ride is apparently officially over! The news of the couple's reported breakup came on Sunday, Oct. 14, and reports say the two still have a lot of love for each other. So why did Ariana Grande and Pete Davidson break up? Tell me, Ari. Was it because SNL wouldn't stop capitalizing on your life for their own content? 'Cause, like, that's pretty much all Davidson has talked about on the show so far this season... I'm just sayin'.
According to a source that spoke with People, Grande and Davidson reportedly called it quits because they were moving too fast. (Insert "you don't say?" meme here.)
"It was way too much too soon," a source close to Grande told the outlet, "It's not shocking to anyone." Elite Daily reached out to Grande and Davidson's teams for comment previously, but did not hear back by the time of publication. Another source told TMZ that the timing wasn't right for their relationship to be successful. It "wasn't the right time for their relationship to take off," according to the source. Elite Daily also reached out to Grande and Davidson's teams for comment on this report at the time.
Fans first started asking questions after an episode of SNL showed Davidson's bunny ears tattoo he got in honor of Grande seemingly covered by a heart.
When news of their breakup surfaced on Oct. 14, the reactions were a mix of people not being surprised, and fans wishing it could've worked out between them.
Overwhelmingly prevalent is the support Grande's fans showed her following the news.
Between the Manchester bombing in 2017 and Mac Miller's death in 2018, Grande has been through a lot over the last year. Her relationship with Davidson clearly brought both of them a lot of joy, but they both publicly talked about how difficult the constant attention on and scrutiny of their relationship was for them. Davidson even temporarily quit social media because of it.
Grande and Davidson have yet to comment on the reports of their called-off engagement. Just before news of their breakup became public, Grande had backed out of a previously scheduled performance on Oct. 13. She was supposed to perform at cancer benefit on Saturday, but Scooter Braun (Grande's longtime manager) took to the stage in her place to vaguely explain why she couldn't be there. "One of the most amazing things about this organization is that they help people when they're having the worst moments in their life," Braun said, "and they give sympathy and a calm nature to people in need in those moments." He continued,
And you saw your invite, someone I'm very close to was supposed to come sing for you today, and because of things that she's going through, she couldn't be here today. And while I was frustrated, being the manager, my wife, being who she always is, just looked at me and she goes, 'She needs this time.'
This would've marked Grande's first performance since Miller's death on Sept. 7. Considering the recent events of Grande's life, it's understandable that she would need to back out of the performance. Something tells me we won't be hearing from Grande or Davidson for a bit.