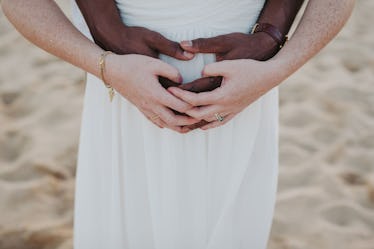 6 Newlywed Brides Reveal Why They Chose A Destination Wedding & Don't Regret It
Newlywed brides and brides-to-be know all too well how much work goes into planning a wedding. There's the guest list, the invites, the decor, the dress, the music, and the wedding party. Your to-do list truly feels like it goes on and on. One of the biggest decisions you'll make is deciding on a venue, and destination weddings have quite the allure. Why choose a destination wedding? Well, several reasons come to mind.
While expensive, destination weddings can offer a built-in honeymoon, you can cut down your guest list, they can cost less than traditional weddings, and of course, they are extremely Instagrammable. A lot of women have an image of their wedding day in the minds before they even get engaged, and that image will have a big impact on their ultimate choice of venue. So, should you tie the knot in your hometown or jet off to somewhere totally new? No one but you and your fiancé can decide this for you, but some personal anecdotes from brides who got hitched all over the world might help you make a more informed decision.
I talked with six newlywed brides who revealed why they made the decision to have a destination wedding. While each of them had a unique reason to take this route, they all felt like they made the right choice.