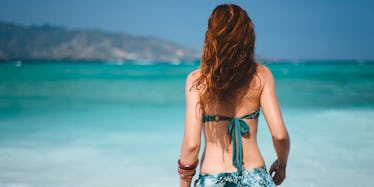 6 Ways To Turn Someone's Destination Wedding Into Your Dream Vacation
Alexander Grabchilev
Destination weddings can be a controversial issue. You don't get to pick the location, date or activities, yet you're expected to pay a lot of money and use your vacation days to attend them.
But with some simple planning, you can turn a destination wedding into your own dream vacation. Here are six easy tips to get you started:
1. Book extra time on either end.
If you're going to be shelling out money to fly across the country – or even to another country – you definitely want to make the most of your trip. International flights are expensive, so get the most bang for your buck and add some days just for yourself, either before or after the wedding.
That way, you get to be there for the bride and groom, and you also have some relaxation days all to yourself without needing to book more flights or hotels. An added benefit? Flights in the middle of the week are often cheaper.
Some rentals even give you discounts for staying for a certain number of nights. So, you might even get a better deal by adding those extra beach days.
2. Book a stopover.
If you're an explorer and want to be able to visit more than one destination on your trip, a stopover can be the perfect option. Plus, this way, you get to choose where to spend the extra time, instead of being forced to spend all your vacation days at the bride and groom's destination of choice.
Adding a stopover is also a budget-friendly way to hit a city you've been dying to see, but wouldn't have the budget to do so if you were visiting it on its own. Always wanted to go to London, but have a friend getting married in France? Spend a day or two taking in the views on the London Eye and checking out Spitalfields Market before watching the "I dos" in Paris. Some airlines (like Icelandair) even let you book stopovers at no extra cost.
3. Look at places nearby.
Look into taking a cheap flight, booking a train ride or even renting a car for a day or two to get from the wedding destination to a more exciting location. If you've already paid for the expensive plane ticket to Italy, take advantage of the fact that it's cheaper to get to other European cities on buses, trains or European airlines than to fly all the way back another time.
If the wedding is at a secluded (or less than ideal) destination, you can still turn it into a vacation for yourself. Do some research into cities or attractions nearby that might interest you more. Don't forget to also look into nearby events and festivals around the wedding date that you may not know about.
4. Skip some activities.
No, don't skip the wedding altogether. But many weddings, especially destination weddings, will have several activities planned for guests besides the main event.
Don't feel like you have to go to every single activity on the list, especially if you're there as more of an acquaintance or second cousin. While grabbing drinks with everyone the night before might be fun, it's OK to skip the morning-after brunch in favor of a spa day.
5. Take advantage of hotel amenities.
Speaking of spa days, if you're staying at a fancy hotel or resort, be sure to take advantage of all the amenities it has to offer. Nothing says "vacation relaxation" like sipping piña coladas by the pool or getting a massage after a long night of wedding dancing.
6. Plan ahead.
Most destination weddings give guests an early heads up so they have time to book their trips. Make sure you use this time wisely to book flights and hotels early (when prices are cheaper) and clear time off from work.
That way, whether you choose to add on extra beach days or fit in a couple of extra cities of your choosing, you'll be ready to go.