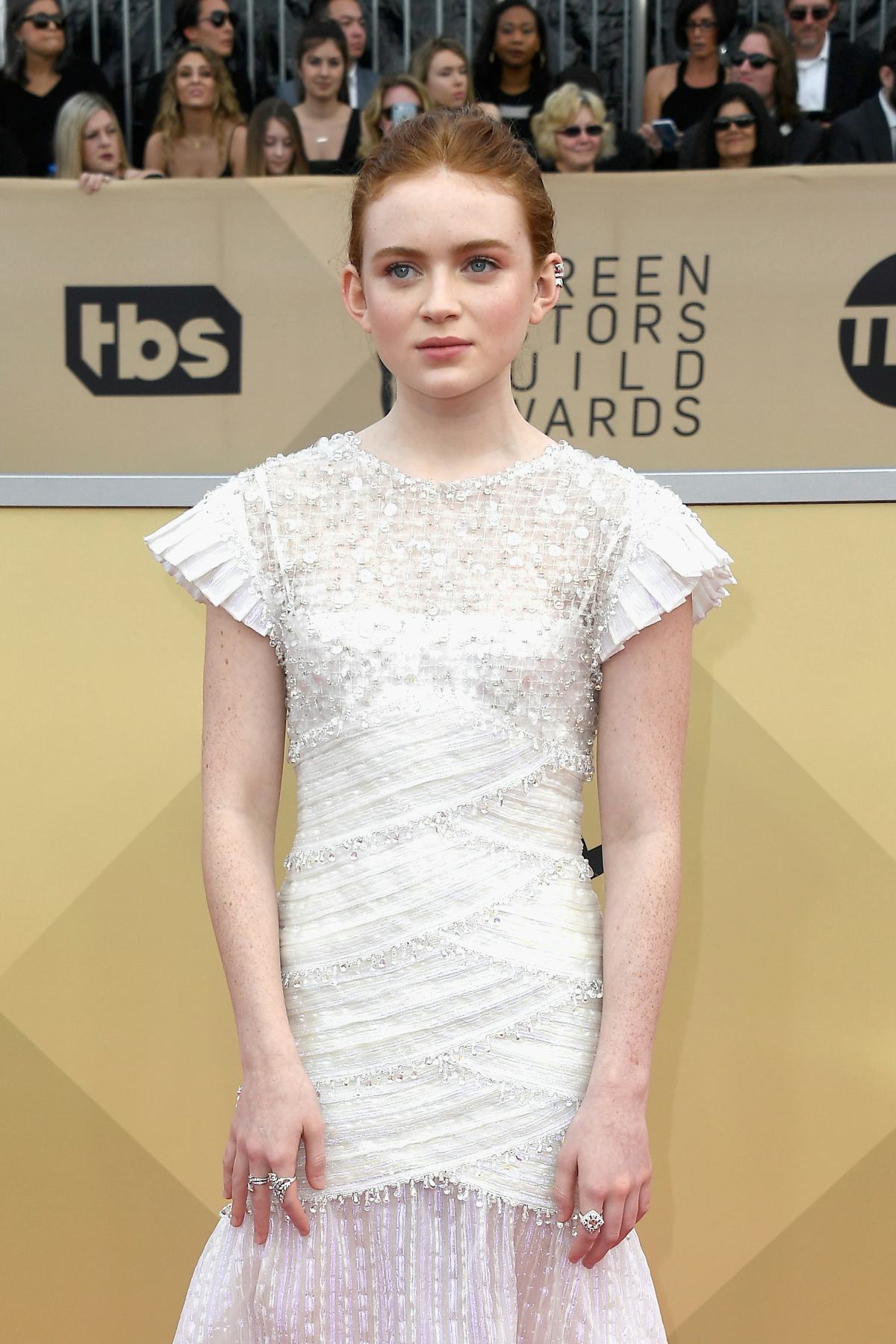 Many Stars Are Wearing Color To The SAG Awards, But Kristen Bell Will Wear Black To Host
Frazer Harrison/Getty Images Entertainment/Getty Images
The 2018 Golden Globe Awards was a historic show because of its unusually political stance. Most actors and actresses wore black on the red carpet and even more wore pins to show their support for the TIME'S UP Legal Defense Fund, which subsidizes legal support for people who have experienced sexual harassment in the workplace. So why aren't actresses wearing black to the SAG Awards?
The Golden Globes were the unofficial launch of the Time's Up movement, which symbolizes the end of individuals being marginalized or too afraid to speak up about sexual assault. The movement supports people across all industries, not just in Hollywood. Most of the actors and actresses on the red carpet wore black as a show of solidarity and support — Blanca Blanco's red dress caused quite a stir on social media. Small black #TimesUp pins were also very prominent on the red carpet, and everything else from Seth Meyer's monologue, to thank you speeches, to Oprah's Golden Globes speech were all in theme with the movement.
Many viewers presumed that this theme would continue on for the rest of awards season, but only weeks later, the SAG Awards are showing that Hollywood is taking a more colorful approach to their red carpet looks. This does not mean that Time's Up is over, however. As Eva Longoria said at the Golden Globes, "It's a movement, not a moment."
Sadie Sink of Stranger Things wore white to the SAG Awards.
"This is a moment of solidarity, not a fashion moment," Longoria said to in a statement to the New York Times. "For years, we've sold these awards shows as women, with our gowns and colors and our beautiful faces and our glamour. This time the industry can't expect us to go up and twirl around. That's not what this moment is about."
Alison Brie from GLOW chose a sequined, red gown.
All the black gowns on the red carpet during the Golden Globes were definitely an empowering statement, but it's important to note that fashion choices are not the only nor most important way to enact change. The Golden Globes still had a male host — Seth Meyers. Funny as he was, a man was still chosen to be the face of the evening.
Molly Shannon wore a Time's Up pin on her red dress.
This time around, the ceremony is being hosted by a woman, Kristen Bell! Additionally, and in perhaps a bigger statement, the ceremony has all female presenters.
Allison Williams of Girls dons a silver gown.
The president of the Screen Actors Guild, Gabrielle Carteris explained the organization's decision to have all female presenters. "We're celebrating all of our actors but are really looking to highlight and celebrate the women and the great work they're doing," she said.
Kristen Bell from The Good Place wears a pink ballgown.
Included in the all-female group of presenters is the female host for the evening, Kristen Bell. She chose to wear pink on the red carpet, although she is expected to wear black on stage throughout the evening. Bell's fashion choice is a bold one after the fashion blackout at the Golden Globes, but it also speaks volumes about the movement.
Chrissy Metz of This Is Us wears bright blue.
Just as actresses wearing black to the Golden Globes showed the importance and solidarity of Time's Up, celebrities not wearing black to the SAG Awards shows that the movement isn't about fashion, it's about women sticking together and speaking up for what's right. Sexual misconduct is rampant in Hollywood and numerous other industries, but fighting to end such atrocities involves not only raising awareness (i.e. the black gowns) but activism as well. Just because you aren't seeing as many black gowns on the SAG Awards red carpet, doesn't mean that the movement is over, in fact, it's just getting started.