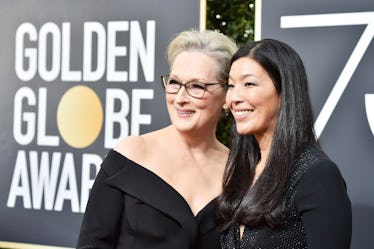 How To Donate To Time's Up, So You Can Support The Movement
Frazer Harrison/Getty Images Entertainment/Getty Images
As celebrities stroll down the red carpet clad in all-black, you might be asking yourself how you can do your part in fighting inequality and supporting the movement. Well, we're here to help by giving you the info on how to donate to Time's Up. You know, if you want to get involved.
Here's some background: Time's Up is an organization dedicated to fighting and addressing the inequality facing women in their respective workplaces. Partnering with leading advocacy groups, the organization is breaking the silence on these injustices by working to improve laws and hold those supporting these unfairness accountable.
On Jan. 1, Time's Up took to their website to upload "a letter of solidarity" in honor of the women and men in Hollywood who came forward with their experiences of sexual harassment within the film industry. This not only prompted actresses motivation behind supporting the organization, but also resulted in one of the most historic moments in Golden Globe history.
So while not all of us can stunt in black ball gowns on the red carpet this year in solidarity, there's still a number of ways we can do our part in helping the cause, right from our very couches.
What are the ways you can help? Time's Up is currently holding a Gofundme campaign in partnership with non-profit The Direct Impact in order to reach a whopping $16m goal with the mission of creating Time's Up Legal Defense. As of Jan. 7 at 7 p.m., the fundraiser has less than $90,000 to reach this milestone. Each donation is tax deductible.
The page has been active since Dec. 20th, and within those 18 days has garnered over 12,000 backers, and the number is only growing with each refresh.
Time's Up and The Direct Impact have provided a full description of Time's Up Legal Defense and how this will impact current systematic inequalities.
TIME'S UP Legal Defense Fund will provide subsidized legal support to women and men who have experienced sexual harassment, assault, or abuse in the workplace and while in pursuit of their careers. The Fund will ultimately be housed at and administrated by the National Women's Law Center, an established, national women's rights legal organization. A network of lawyers and public relations professionals across the country will work with the Center's Legal Network for Gender Equity to provide assistance to those ready to stand up. Access to prompt and comprehensive legal and communications help will mean empowerment for these individuals and long term growth for our culture and communities as a whole.
Or, for those who want to support the movement but are unable to donate, Time's Up has listed eight steps on how we can each do our part to fight these injustices. Merchandise is also available for pre-order on Time's Up online shop, with items ranging from tote bags to apparel to notebooks. So, you can fight the patriarchy while also looking completely fly.
Of course, a great cause isn't without a group of fantastic women behind it. Once the Time's Up Legal Defense Fund is achieved, which let's be honest is extremely probable to happen tonight, a team of four women will take the reigns in spearheading this incredible mission. The women will include Christina Tchen, former Chief of Staff to former FLOTUS Michelle Obama, Roberta Kaplan, founding partner of Kaplan & Company, well known strategist Hilary Rosen, and National Women's Law Center employee Fatima Graves. Get to know these ladies' full resumes here.
While the Golden Globes may be the platform that helped propel Time's Up into the spotlight, one can hope that viewers and supporters will take the initiative to keep this fight alive. No matter what, make sure your voice is heard.