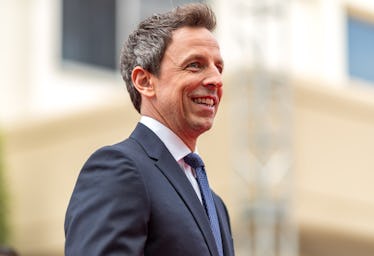 Seth Meyers Did NOT Hold Back During His Golden Globes Monologue & I'm Crying
Christopher Polk/Getty Images Entertainment/Getty Images
You didn't expect Hollywood to get off easy, did you? The 75th annual Golden Globes are acting as the official kick-off to the 2018 awards season and the big night is finally here. Late Night's Seth Meyers is on hand for pressure-packed hosting duty, and of course, the biting comedian didn't waste any time on getting down to business in the 2018 Golden Globes monologue.
"Good evening, ladies and remaining gentlemen," he opened the evening.
Certainly, Meyers couldn't possibly shy away from mentioning the onslaught of allegations of sexual misconduct plaguing the industry. He went on,
For the male nominees in the room tonight, this is the first time in three months it won't be terrifying to hear your name read out loud. 'Did you hear about Willem Defoe?' 'Dear god, no.' 'He was nominated.' 'Don't do that!'
Considering what's going on this year with powerful men and their terrible behavior Hollywood, a lot of people thought it would be more appropriate for a woman to host these awards, and they may be right. But if it's any consolation, I'm a man with absolutely no power in Hollywood. I'm not even the most powerful Seth in the room tonight. Hey, remember when he was the guy making trouble with North Korea? Remember that? Simpler times.
Catch Meyers' full monologue below:
The audience knew this subject was unavoidable — even the promos for the event warned us. "I'm Seth Meyers and I'm hosting the Golden Globes," he said. "And we've got a lot to talk about."
That's for sure.
Of course, Seth made time to talk about lighter topics and gave credit where credit was due. Translation: He loves Oprah as much as everyone else. Seth got a big laugh when he declared,
Oprah Winfrey is receiving the Cecil B. DeMille Award tonight. What a tremendous honor for Cecil B. DeMille.
Hosting an awards show as big as the Golden Globes is a huge honor, but as always, it comes with the tricky job of toeing that fine line between appropriate and offensive. Seth Meyers has a reputation for keeping things both sharp and playful. We weren't surprised when the network chose someone known for their thoughtful comedic sense.
"We are thrilled that Seth Meyers is going to be hosting the Golden Globes this year," Chairman of NBC Entertainment Robert Greenblatt said in a statement, following the announcement. "As he does every night for us in late night, he will be taking a closer look at this year's best movies and television with his unique brand of wit, intelligence and mischievous humor."
When people think awards shows, they think celeb glam, "who are you wearing?", and passionate speeches that get cut off mid-sentence. This year, it's hard to get bogged down in the frivolity of it all, considering the way Hollywood has been making headlines of late. In an industry that's all about make-believe and escaping reality, this is an opportunity to keep it real and address issues worth talking about.
Seth Meyers spoke to Hoda Kotb on the Today Show recently, discussing how he planned on approaching what's going on in Hollywood without making everything about the elephant in the room:
I think the same way we handle late night. You have a conversation with your writing staff. You talk about how to strike the right tone. We definitely aren't going to ignore it. It's the elephant in the room. You just try to figure out a way to address it, as you pointed out. You don't want to distract from all the great things that happened in Hollywood this year, either. But hopefully, we'll find a balance. Times like these, I think, make it more exciting to host shows like this … If we were just talking about great movies and TV shows, there are probably better hosts than me.
Well, Seth, we think you struck a pretty great balance.