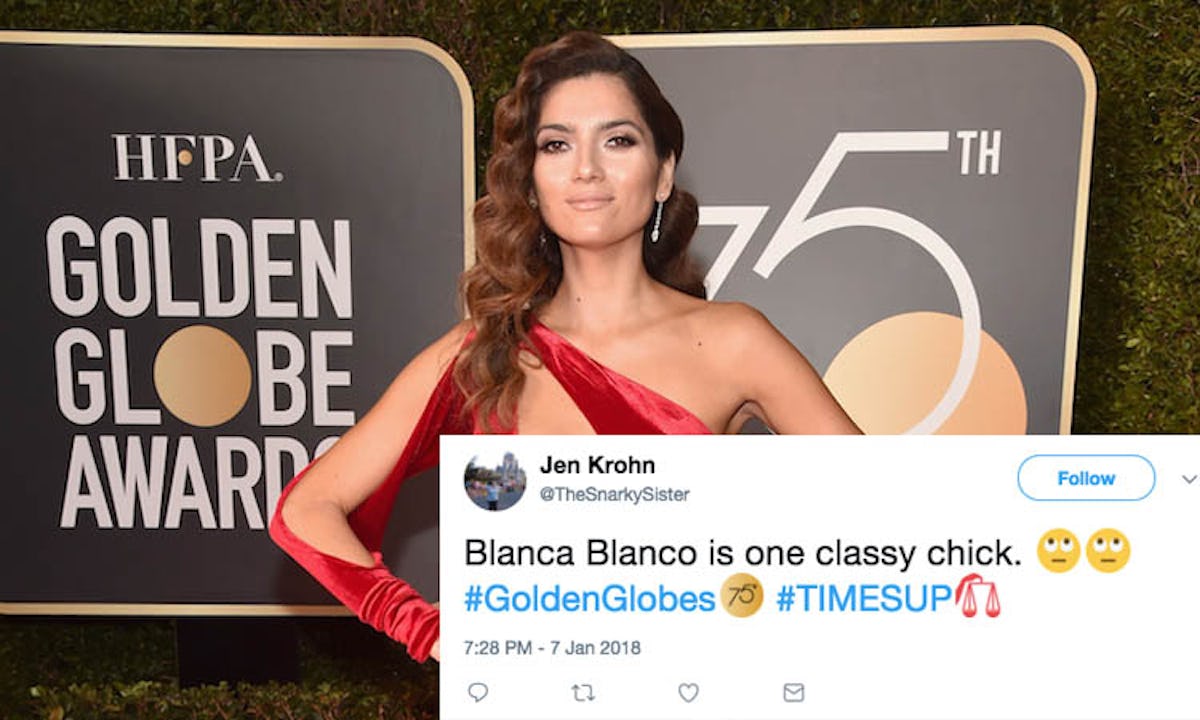 Some Stars Didn't Wear Black To The Golden Globes & Twitter Is Not Happy
Alberto E. Rodriguez/Getty Images Entertainment/Getty Images
The majority of Hollywood unofficially agreed to wear all to black kick off the 2018 award season. One actress, however, didn't get the memo: California-native Blanca Blanco. Tweets about Blanca Blanco's Golden Globes red dress are saying what we're all thinking.
You know that recurring nightmare where you show up to a party and you're the only one in costume, or the one where you show up to school naked? Well, it just happened to Blanca Blanco IRL. Hollywood A-listers tend to compete with one another for who can stand out the most on a red carpet with their bold fashion choices. The 2018 Golden Globes are notably different, though, because almost every single celebrity is wearing black on the red carpet to protest the long-silenced sexual harassment culture, in Hollywood and worldwide. The keyword there is almost. Despite all the pre-award show press and anticipation that the red carpet would be filled with black attire, Blanco somehow missed the memo, big time.
Blanco wore an Atria Clothing red velour gown with a practically record-setting thigh-high slit. The dress had one long sleeve, also with a large slit, and the front of the gown featured — you guessed — another slasher-style slit.
While the actress looks insanely beautiful, Twitter feels like it may have been in poor taste to wear such a revealing, red dress to the show on this particular occasion. Most of her red carpet counterparts all wore black to raise awareness for sexual harassment. Blanco's red dress doesn't necessarily mean that she doesn't agree with the Time's Up movement, but it doesn't exactly shout out her support, either.
"Arriving @goldenglobes," Blanco tweeted out a photo of herself arriving on the red carpet looking exhilarated for the evening. And Twitter was quick to point out Blanca's lack of solidarity.
"Who forgot to tell Blanca Blanco to wear black? #GoldenGlobe #redcarpet," one tweet read.
Another said: "The Dress of #BlancaBlanco.... #GoldenGlobes it's not a strip club! My eyes... gosh!"
One Twitter user went straight to the problem: "Blanca Blanco ignores blackout as she heads to #GoldenGlobes in skimpy red dress."
Uh oh. This user tweeted, "I have secondhand awkwardness for Blanca Blanco. #GoldenGlobes."
"I guess Blanca Blanco didn't get the memo! #GoldenGlobes." Uh. Ouch.
"Not sure if #BlancaBlanco got the #MeToo & #TimesUp movement memos... #GoldenGlobes," another chimed in.
This tweet read: "Blanca Blanco was like "nah!". I just wish she would've picked a better dress if we gonna rebel. Aren't we tired of this brand of sexy? Because I am #GoldenGlobes."
"It's ok to disagree with the #MeToo movement, nevertheless wearing a dress like this when women are asking to heard not just seen is so appalling. #GoldenGlobes," tweeted another.
Here goes yet another: "Blanca Blanco totally IGNORES blackout rule as she turns up to Golden Globes in revealing red dress."
Sheesh. "Blanca Blanco doesn't necessarily have to conform to the #WhyWeWearBlack dress code, yet to show up in a gown that's not only bright red but extremely skimpy seems like a crass f*ck you to the whole movement."
"#GoldenGlobes Blanca Blanco SHUNS protest as she ditches underwear in red slit dress."
Unfortunately, Blanco is no stranger to being a topic of conversation after a red carpet appearance. At the 2012 Academy Awards, Blanco had a wardrobe malfunction and seemingly exposed her nether region to the cameras. "I had a bodysuit on, it was like a swimsuit, for some reason the pictures are looking like I have nothing. It was a nude color, it matches my skin, so I wasn't naked," Blanco later explained. One can only hope that she'll have some sort of explanation for her statement-making (of a different kind) Golden Globe attire this year.