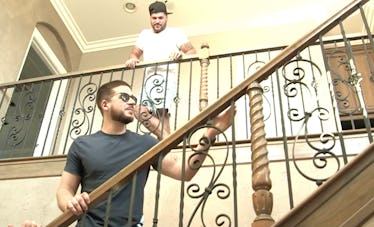 Here's The Story Behind Ronnie's "Famous Stairs" On 'Jersey Shore Family Vacation'
MTV
It seems as though the intense drama between Ronnie and his baby mama Jen has cooled off a bit, and now we are seeing him take the steps to move on from the dramatic blow-up on Jersey Shore Family Vacation. Thursday night's new episode was all about the boys, as Vinny, Pauly D, and Mike came together to help Ronnie load up on baby stuff to turn his house into the perfect place to raise his daughter Ariana Sky. But first, the guys had to stop and marvel at Ronnie's infamous staircase. You might be asking, why are Ronnie's stairs "famous" on Jersey Shore Family Vacation? In case you forgot or missed it several months back, here's your reminder about the explosive fight that went down on that staircase.
In the new Jersey Shore Family Vacation, Ronnie had Vinny, Pauly D, and Mike over to his house, which he used to share with Jen. Although it is unclear, it sounds like Ronnie is saying that he and Jen are broken up but will continue to co-parent their daughter Ariana from separate homes. (In the last couple of months, it appears Ronnie and Jen may have gotten back together). But before they could help Ronnie baby-ify his house, Vinny, Pauly D, and Mike had to take a moment to check out his infamous staircase.
As Pauly D points out, the staircase was the setting for one of the most shocking moments of Ronnie and Jen's rollercoaster relationship. After a brutal, insult-laden back and forth on social media at the end of April, Jen live-streamed video of Ronnie screaming at her from the top of that staircase. In the video, Ronnie can be seen accusing Jen of cheating on him, and it ends with an unclear physical altercation involving the couple. Elite Daily reached out to Ronnie's team for comment at the time of the reports but did not hear back. Of course, the live-stream was deleted, but you can still see the videos thanks to @thegoodteatime. Watch the first part and the second part here, but be warned that they contain graphic language.
At the time, the staircase video made it seem like Ronnie was the aggressor, but he makes a different claim on Jersey Shore Family Vacation. Vinny, Pauly D, and Mike immediately notice the busted TVs around Ronnie's house, and he said that it was from Jen's rampage the night of that staircase video. Earlier in the season, viewers saw the full force of Jen's anger when she barged into Ronnie's hotel room in Las Vegas, screamed at him, and spit in his face.
Thankfully, things between Ronnie and Jen have been much quieter since then. They even appeared to reconcile by spending the Fourth of July together, and have been spotted hanging out a few times since. Of course, there are still a ton of things that we don't know about what really went on in that relationship, and it's still not clear if they really are together again or not, but at least they aren't exploding at one another on social media any more.
Catch new episodes of Jersey Shore Family Vacation Thursday nights on MTV.