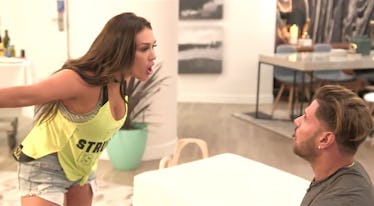 Jen & Ronnie's Explosive 'Jersey Shore' Fight Has Fans Asking About Their Current Status
MTV
One of the biggest blow-ups in Jersey Shore history exploded on Thursday night's new episode of Jersey Shore Family Vacation, and it has everyone wondering (yet again) what is going on between Ronnie and his girlfriend Jen. Since the entire episode involved Ronnie's housemates urging him to break up with Jen, it would be pretty wild if he was still with her after that massive fight, right? Well... are Ronnie and Jen still together or not? Let's check in on the current relationship status of these two volatile coparents.
Jersey Shore fans have been hearing about the turmoil in Ronnie Magro Ortiz and Jen Harley's relationship for months now, all going back to when the couple engaged in a surprisingly vicious social media back-and-forth just days after the birth of their daughter, Ariana Sky. Things exploded again months later when Jen was arrested on charges of domestic battery in Las Vegas after allegedly attacking Ronnie. And that is about where we are at on Jersey Shore Family Vacation right now. Thursday night's new episode ended with a physical altercation between Jen and Ronnie, with Jen screaming that Ronnie won't stop texting insults to her and Ronnie angry that Jen constantly threatens to take their newborn daughter away from him. The episode ended with Jen spitting in Ronnie's face and lunging at him, declaring that she doesn't care if she gets arrested in what feels like prescient foreshadowing.
But what are things like between Ronnie and Jen now? Well, as wild as it sounds, it appears that the couple is back together. Shortly before last week's Jersey Shore Family Vacation: Part 2 premiere, Ronnie posted a video of himself and Jen jet-skiing together in Puerto Rico.
Earlier in August, E! Online reported that Ronnie and Jen were indeed back together after their string of scandals. A source told the site that the two had been together for a while up to that point, and had been relaxing in Puerto Rico with Ariana Sky:
They've been quiet about it but it's been about a month now. They want peace and they want things to work out for the baby's sake.
Ronnie's Instagram stories seem to confirm the reconciled relationship. He has posted a few photos of himself with Jen as they took Ariana Sky to different attractions in Puerto Rico and Las Vegas over the past few weeks.
The couple had apparently broken up back in April after their Instagram fight, but got back together around the time of the Fourth of July, when photos of them reuniting began popping up on their Instagram accounts. Obviously, Ronnie and Jen probably want to keep a low profile now that Jersey Shore Family Vacation is airing. The new season is predominantly focused on the violence and manipulation present in their relationship, showing Ronnie break down in tears constantly and Jen threaten and scream at him.
Apparently, Ronnie and Jen were somehow able to work through all that dramatic dysfunction we are seeing on the show. Let's just hope they can keep their relationship on track from now on.