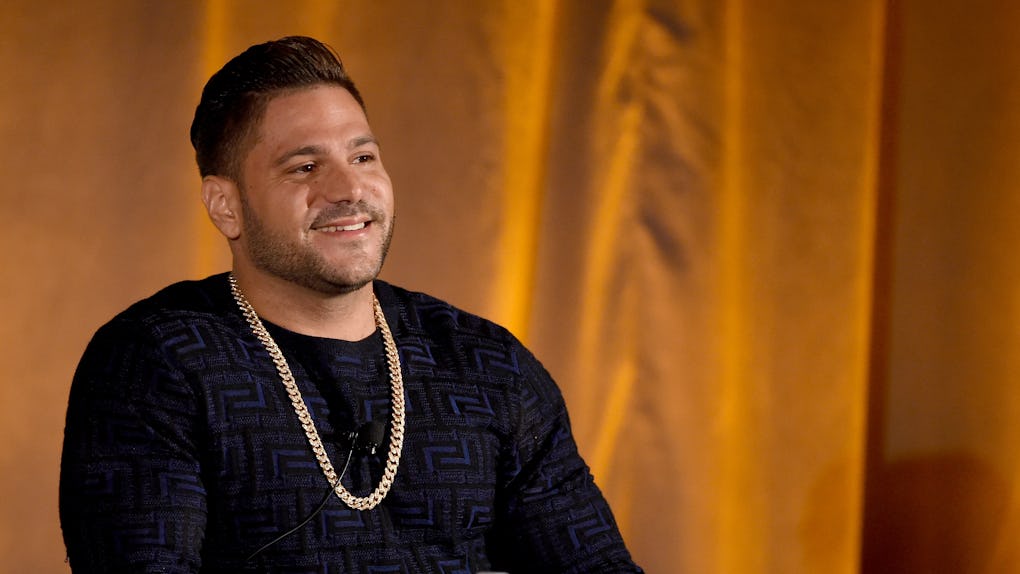 Kevin Winter/Getty Images Entertainment/Getty Images
Ronnie Ortiz-Magro & Jen Harley's Body Language Shows They Might Be Better Off Apart
All Jersey Shore fans out there are undoubtedly well-acquainted with series regular, 32-year-old Ronnie Ortiz-Magro. As an OG member of the Jersey Shore cast, we've been privy to many of Ortiz-Magro's up's and down's since the beginning of the series. After a brief romance with Khloe Kardashian's BFF, Malika Haqq, Ortiz-Magro announced in December of last year that his new girlfriend, Jen Harley, was pregnant with his child. But it's no secret their relationship has been rocky. Turns out, Ronnie Ortiz-Magro and Jen Harley's body language reveals quite a bit about their tumultuous relationship.
It's news to no one that you can't always trust celebrity gossip. However, it does seem like the relationship between these two has been a non-stop rollercoaster from the beginning. Alleged cheating, domestic violence, public altercations, and endless drama has continuously plagued the duo, even after the birth of their now three-month-old daughter. It's nearly impossible to know the in's and out's of a relationship unless you're part of it, but the physical dynamic between a couple can tell you a lot. I spoke to body language experts Blanca Cobb and Traci Brown, author of Persuasion Point: Body Language and Speech for Influence, to get their input on what's going on between Harley and Ortiz-Magro. Here's what they had to say.
1. They might not be on the same page.
"Jen is completely facing her body toward Ronnie, which you'd expect for a couple in love," Cobb tells Elite Daily. "Now, she places her hand on his chest, which is both an intimate and possessive move. Placing your hand on your man's chest signals to other women that he's taken. And yet, it's intimate because you touch what you like, love and want."
It's clear that in this photo, Harley is definitely putting it on blast that Ortiz-Magro is her bae. And Brown agrees that the placement of her hand is a bit territorial. In the second photo of the Insta post (scroll through!), the couple shares a lip-lock while Harley simultaneously flaunts some leg.
"Their body language is a bit conflicted in this photo. One side of their bodies are touching and yet, the other side is completely open," explains Cobb. "His eyes aren't closed. This suggests that he isn't in the moment. Perhaps he's feeling a bit of a disconnect. Jen's eyes are closed with a head tilt, which suggests that she's feeling something for him."
2. Jen may have a controlling streak.
According to Cobb, it's important to realize that regardless of what's going on in a relationship, someone can still be thrilled to be having a baby — which may explain Ortiz-Magro's intimate belly kiss.
"Even though Jen's smiling, her body is somewhat rigid," says Cobb. "She keeps her left hand by her side instead of touching his arm or head. Having a baby should bring about lots of feelings of love for your partner. And that's not what you're seeing in this photo [from her]."
Brown notes that there seems to be a trend with Harley exerting control over Ortiz-Magro, but that shouldn't be confused with "real intimacy."
3. There's a good chance they're no longer romantically involved.
"She's pulling his hand around her shoulder. Again, that's all about control," says Brown.
It's worth noting that this pic was taken only a couple of months after Harley was arrested for domestic battery. Allegedly, the couple got into a fight while driving home from a barbecue and Harley proceeded to drag Ortiz-Magro with her car while he was attempting to exit. According to TMZ, Ortiz-Magro got stuck in his seatbelt.
"Even though Jen is holding Ronnie's hand as it rests on her shoulder, her middle finger is sticking straight out," observes Cobb. "Hmmm, makes you wonder what she's thinking? So I don't think all is well in paradise."
After Harley posted an Instagram Live of a physical altercation between herself and Ortiz-Magro at the end of April, a source told E! News that the couple had decided to call it quits for good. However, there have also been murmurs that they've been trying to working things out for the sake of their baby girl. It's hard to say what's going to become of these two, so it looks like we'll have to wait and see. But for now, one thing's for sure: Their body language does not indicate a genuine, equal, love connection.