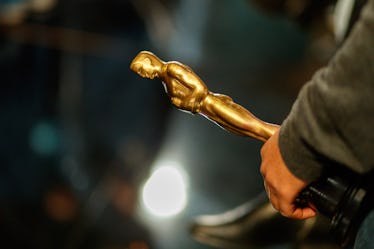 Celebrities Are Wearing Orange Pins At The Oscars & The Reason Is So Important
Christopher Polk/Getty Images Entertainment/Getty Images
The awards circuit this year has been overwhelmingly influenced by social and political activism, specifically when it comes to the red carpet. From the Grammys to the Golden Globes, entertainment industry professionals have made strong statements against what has been considered as the status quo. But over the past couple of weeks, a new issue has taken center stage — gun violence. And although gun control is not as directly correlated to Hollywood as sexual harassment, for example, the A-list has still taken it upon themselves to raise awareness to this important national issue. So why are celebrities wearing orange pins at the 2018 Oscars?
According to a press release, members of the Everytown For Gun Safety's Creative Council, as well as others, are wearing orange pins and ribbons to highlight the issue of gun violence prevention at the 2018 Oscars. Although much of the 2018 awards season has zeroed-in on the sexual harassment that's rampant in the entertainment industry and beyond, the red carpet at the Academy Awards focused on this decidedly different issue. And for good reason.
Some celebs were spotted wearing these orange American flag pins at that 2018 Oscars red carpet.
Broadway darlings Lin Manuel-Miranda and Keala Settle were photographed with a pin front and center.
These celebs are not the only ones to use their platform to make a statement advocating for gun control. Comedian Amy Schumer has also called on people to donate toward Everytown for Gun Safety — a non-profit that advocates for an end to gun violence. She decided not to discuss her recent nuptials in order to raise awareness to this issue — so that's really saying something.
Just over two weeks ago on Feb. 14, a school shooter attacked Marjory Stoneman Douglas High School in Parkland, Florida, just before school let out at 3 p.m. The shooter ultimately took the lives of 17 people, most of whom were young students. This tragic event is one of the deadliest school shootings in American history. Since the shooting, the student survivors have come out in full force to make their voices heard, calling on Congress to act in strengthening gun laws.
Their voices have had a massive impact in raising awareness to this issue. These students have organized a "March For Our Lives" on the nation's capitol, which will take place on March 24. This march calling for gun control has set the nation and the world on fire, and countless other "March For Our Lives" demonstrations have been organized in major cities worldwide. Needless to say, the issue of gun violence and the cry for help that these Parkland students are projecting is extremely impactful. In fact, many high-profile celebs have donated thousands upon thousands of dollars to the "March For Our Lives" cause. These A-listers include Oprah, George and Amal Clooney, and the Spielbergs, who each donated $500,000.
And the celebrities who wore the pins echoed that same cry for change. Why orange? The color has become symbolic of the movement advocating for gun safety. On January 21, 2013, Hadiya Pendleton marched in President Obama's second inaugural parade. She was a high school student who lived in the south side of Chicago. One week after the inaugural parade, Hadiya was tragically shot and killed on a playground back in her hometown. Hadiya's childhood friends decided to commemorate her life by wearing orange — a color that represents what hunters wear in the woods to protect themselves and others while hunting.
The "Wear Orange" movement has been organized to raise awareness to gun violence issues while still honoring the tradition that one has the right to be a responsible gun owner if one chooses to do so. And Hollywood has decided to bring awareness to this specific movement in the wake of the Parkland shooting during tonight's Oscars red carpet. In a statement shared by Everytown For Gun Safety, Nza-Ari Khepra, a classmate of 15-year-old Hadiya and co-founder of the Wear Orange movement said about the Oscars attendees tonight, "It is always such an honor to witness any person support the evolution of our efforts, especially at an event like the Oscars."
It's always great to see those who have the platform to raise awareness take a stand and speak out for causes they believe in. And the issue of gun control is something that every American should be concerned about, because it is an issue that affects all of us. So kudos to the celebs who have worn pins at the Oscars, donated to the March For Our Lives, and made their voices heard. We need more strong advocates like these in order to enact serious change in put legislature and out American society.