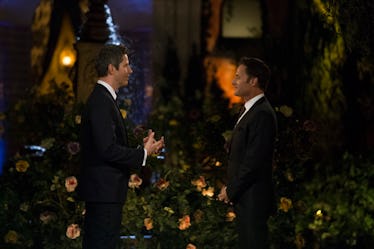 Arie Let 8 Ladies Go On The First Week Of 'The Bachelor' & Here's Who They Are
ABC/Paul Hebert
And then there were 21... The Bachelor's Season 22 premiere introduced us to 29 ladies competing for Arie Luyendyk, Jr's attention, affection, and eventual proposal, but we all know how this show works by now — he had to send home some of them immediately. Sigh. After uprooting their lives, buying a zillion gowns, and coming up with a clever way to say "nice to meet you," a handful of ladies had to pack their bags following the initial rose ceremony. Who was eliminated on The Bachelor week 1? Arie said goodbye to eight women the first night.
#BachelorNation knows the drill by now. After ABC re-acquainted us with this season's leading man with a song and dance about where he was at in his life, things finally got rolling. Here come the limos, people. We met a taxidermy enthusiast, someone wearing a mask, a gal from a town named Weiner, and more. Then it was off to the cocktail party where drama inevitably ensued. Single mom Chelsea received the first impression rose, which is kind of a big deal, but also unsurprising considering she dominated a lot of screen time. More drama. What an evening! But who won't make it to Episode 2, you ask?
Here are the eight women who did not get a rose on The Bachelor premiere. Apologies, contestants — we hardly knew ya.
Ali, a personal stylist from Lawton, Oklahoma.
Amber, a business owner from Denver, Colorado. Amber introduced herself by saying she had "seen a lot of d*cks in her life." Har. Har. Nope.
Bri, a sports reporter from Grants Pass, Oregon.
Brittane, a marketing manager from San Diego, California. Unfortunately her "nice butt" sticker didn't quite stick.
Jessica, a TV host from LA by way of Calgary, Alberta, Canada.
Lauren J, a masters grad from New Roads, Louisiana. Welp — that's one Lauren down out of four.
Nysha, an orthopedic nurse from Belton, South Carolina.
Olivia, a marketing associate from Geneseo, Illinois.
We're sorry to see these lovely ladies go, but 29 is a lot to begin with and Arie had to narrow things down STAT. It felt like half of this episode was devoted to the ladies frantically trying to get time with Arie or talking about how they didn't have enough time with Arie. How can a relationship blossom when there are so many people involved?
We're definitely looking forward to seeing who he continues to hit it off with. Arie has already admitted that he fell in love with two women throughout the process, so naturally we are trying to figure out who they could possibly be.
It also looks like there will be no shortage of drama when it comes to these ladies. Things already got off to a rocky start when Chelsea's aggressive approach to getting time with Arie caused immediate tension. If the trailer for the season is any indication at how the dynamic in the house plays out, expect more tears and fights in the future. Apparently, "these women aren't here to f*** around."
Fortunately for Arie, he's got no time for that.
"I really try to concentrate on my time with that individual. I think that as a Bachelor, you really don't see what's happening in the house. You really only hear kind of through the women telling you sort of what drama is unfolding," Arie recently told reporters. "So, for me, I try to cast aside and really give this person in front of me the benefit of a doubt because it is a difficult experience. It's not an experience everyone handles the same. And just because they're popular in the house doesn't really make them a good life partner."
Interesting... It's time to stock up on the popcorn, #BachelorNation. This season is gonna be good.