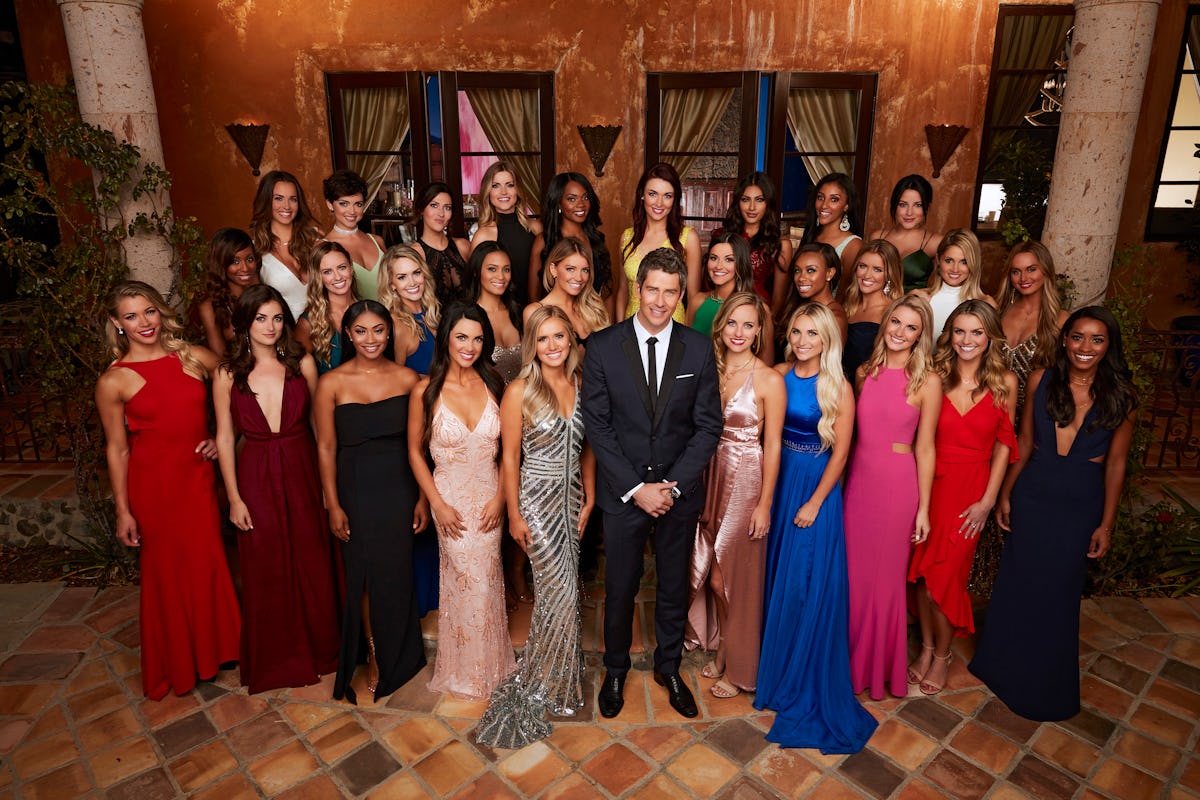 'The Bachelor' Finally Premiered & Fans On Twitter Couldn't Handle It
ABC/Paul Hebert
Loyal #BachelorNation members have been bracing themselves for "Janu-Arie" (sorry, we just can't help it) ever since ABC announced that Arie Luyendyk Jr. was going to be the next lucky fellow to take on the leading man role for Season 22. Mixed feelings ensued and emotions ranged from "Who?" to "Why isn't it Peter?" to "I'm into it" to "Whatever." Now that the first official episode is finally here... well — people are pretty pumped. Tweets about The Bachelor premiere prove that fans can't get enough already.
Arie's our new Bachelor for the next however many weeks — whether you like it or not, people. But it actually looks like this season is going to be pretty, pretty good. Things got off to a ridiculous start in the first 45 minutes, so we really cannot complain.
Ladies and Gents, Your Next Bachelor!
If you didn't watch the riveting pre-premiere special that was The Bachelor: Countdown to Arie or you haven't been paying attention for the last four months, you might be wondering who the heck this dude is. As expected, the initial part of the show is all about Arie. Allow him to reintroduce himself. He's a former race car driver (yes, we are well aware) who lives in Arizona and is ready to settle down. No, seriously. "Even though The Bachelorette was my biggest heartbreak it was also proof that I could fall in love, and I really want that again... I'm taking a chance just like these women are taking a chance on me," he says.
So, About Those Limo Entrances...
Ah, it's time for one of the most awkward rituals in reality TV history. Time to put your best stiletto forward, ladies. Nothing went terribly awry here, but we still don't really know what a gratitude rock is. There were also references to little weiners, because you gotta stand out in this competition, right?
Drama, Drama, Drama
It's always a race against the clock when it comes to this show. Not enough "time" is a major issue for the competitors, and this premiere was no exception. Chelsea, in particular, caused some tension with her "bold" approach. After making it abundantly clear that getting to know Arie quickly was her mission, Chelsea stole him away and even got a kiss while she was at it. Then she went ahead and bragged about spending time with him, which was pretty much a sure fire way to become an immediate target. "She seems like she's going out of her way to stir the pot," Bekah mentioned.
Frontrunners and First Impressions
Who revved up #BachelorNation's engines and who totally stalled? (We will use car references throughout the entirety of the season because Arie, thank you very much.) Chelsea got the First Impression Rose, but what does #BachelorNation feel about it all? Thoughts? Predictions? You can't get these two hours of your life back, so you may as well form an opinion.
So far, so good? We're already warming up to Arie a bit more and this season is only two hours in.
"I was the same person before the show and I was the same person after the show, and I just went back to my regular life and tried to date. And when I got approached to do this, I really realized the last time I was really in love and really ready to get engaged was on the show," Arie recently told reporters. "So, for me, the timing of everything worked out really well and I just felt like it was the perfect fit. So, I decided to give it a shot."
Happy to be along for the ride, Arie. We'll certainly be watching.