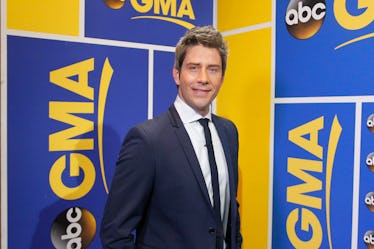 Arie's Season Of 'The Bachelor' Finally Has A Premiere Date & It's Sooner Than You Think
ABC/Lou Rocco
Bachelor Nation is currently enduring an off-season right now — there are no roses in sight and no Chris Harrison teasing dramatic moments to come. But we won't have to wait too long until we are swept off to the mansion for awkward limo introductions and all the "can I steal you away for a minute?" interruptions we can take. But when does Arie's Bachelor season premiere exactly? #JanuArie is coming. Soon.
If your New Year's resolution is get into more reality TV, then you're in luck. Season 22 of The Bachelor, featuring leading man and race car driver Arie Luyendyk Jr., will premiere on Jan. 1, 2018. Yup – while you nurse your champagne hangover and resolve to have the best year ever, curl up in front of that glowing screen and watch as a guy meets a gaggle of women under bizarre televised circumstances so he can choose one to get married to after a few months of unrealistic dream dates. It's the perfect way to ring in 2018, right? We typically spend the first day of each year binging Twilight Zone episodes, so a new season of The Bachelor sounds like the perfect way to top off the inevitably lazy holiday.
It's nice timing considering fans have been waiting months for a fresh installment of the franchise to kick off. Bachelor In Paradise took over the summer slate not long after Rachel's season of The Bachelorette aired its finale. The good thing is we're also getting — Bonus! — The Bachelor Winter Games at some point around February, since it's set to coincide with the 2018 Olympic Games. Usually, a Bachelorette season is not far behind, as it typically gets a May premiere date. Get ready for a Bach-filled first half of 2018, people.
Although loyal and opinionated viewers weren't exactly ecstatic about the announcement of Arie's Bachelor title, it's happening. Hopefully Bachelor Nation can get over their #TeamPeter pipe dreams and make room in their hearts for Ariekins. You might recall he was the runner-up in Emily Maynard's Bachelorette season back in 2012, losing out to Jef "one F" Holm. Emily even showed her support for her former TV flame, so let's give him a chance? Guys? "I have been wanting Arie to be the Bachelor since my season ended forever ago, and I know he's going to be great!" she told People. "He's so much fun to be around and comes from the nicest family, so the girls on his season really lucked out with him! Arie deserves nothing but the best, and I hope everything goes wonderfully for him!"
Why Arie? Well, for one, it sounds like Peter said no. But while a lot of Bachelor participants lack the maturity to necessarily do the right thing (ahem, Dean) or aren't actually ready to settle down, Arie has a few things going for him on that front. He's done the show before so he knows the ropes, at least from the contestant perspective. And he's 36. That's, like, 56 in Bachelor years. There have been people almost 10 years his junior in this role in the past. "I'll be 36 in a few weeks, so for me, it's time ... I feel like I'm the last one of my friends to really take that step," Arie told GMA after the big reveal.
Even though the latest super cheesy Halloween promo for the upcoming season didn't get our hearts racing in anticipation, we're still ready to fully commit ourselves to the engulfing and addictive hole that is a Bachelor season. Get those noise makers ready, Bachelor Nation. Happy New Year, indeed.