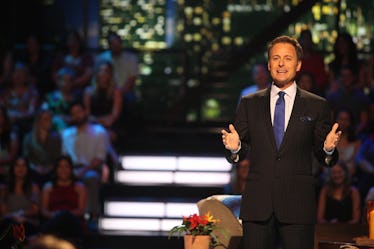 Winter Is Coming, Again: Here's What We Know About 'The Bachelor Winter Games'
ABC/Paul Hebert
If you're a member of Bachelor Nation, you probably want to get that Bachelor fix all year round. It feels like not a month should go by without seeing Chris Harrison on our TVs. While no installments of the franchise are airing at this very moment, at least we have some good stuff to look forward to. Bachelor in Paradise steams up screens in the summer, and now fans can expect a new spinoff of the dating show to heat up those cold winter nights. But when does The Bachelor Winter Games premiere? And what do we know about it so far?
If you like sports, and you also enjoy watching singles look for love on national TV, then you're seriously in luck. The Bachelor Winter Games is a combo of those concepts, pitting (presumably ridiculously good-looking) contestants against each other in athletic challenges, all as they try to find love. Of course. This will all coincide with next year's Winter Olympics and is set to air in February 2018. Naturally, a bunch of hot reality stars playing games in between valuable make-out time isn't exactly the same thing as the biggest sporting event in the world, but we are so in. Bachelor meets physical competition? Sign us up.
But don't expect the same old, same old when it comes to this fresh take on a 15-year-old franchise. "It's going to be very different. It's going to be fun. I'm very excited," Chris Harrison told The Hollywood Reporter last month. "We're still working out the creative aspects of the whole thing, and I'll be producing on it as well. But I know what's in store, just the broad strokes."
Please tell us there will be roses, though. You can't not have roses.
Rob Mills, head of ABC's alternative programming department, elaborated,
At the end of the day, it's going to be about finding love again. It will have some of the Bachelor Pad DNA, in that there is going to be a competition element. And the other thing we're excited about is having contestants form the international formats of The Bachelor. So, you have somebody from Bachelor Japan, Bachelor Australia, Bachelor Canada, and Bachelor U.K. We're really excited to see if we can have some international romances as well as the competition in U.S. versus the world.
Ah, an international component. Interesting. Producer and avid tweeter, Mike Fleiss, also spilled some details on social media recently. One of his insider tidbits revealed some huge casting news, especially for those on #TeamPeter.
Yup, everyone's favorite not-completely-committal contestant from Rachel Lindsay's Bachelorette season will apparently be taking his skills to Vermont. The Wisconsin personal trainer is clearly in amazing shape, so look out. Plus, he's pretty darn adorable.
There hasn't been a flurry of info on the upcoming roster as of yet, but note to producers: Sean Lowe and Catherine Giudici Lowe are interested. The Bachelor success story couple recently chatted about the spinoff in a recent BUILD Series interview. "We're not on it," said Catherine. "But we should be!" Sean continued, "If it's Bachelor related ... Someone at some point is hooking up, and that's why they don't want the old married couple." We're gonna have to agree, but getting some couples in the mix could be kind of cool, even if it probably isn't the show's style.
Who else can we expect to see? Becca Tilley recently weighed in on the option on Ashley Iaconetti and Ben Higgins' Almost Famous podcast, saying, "I'm retired … actually, I say that, but the Bachelor Winter Games sounds so fun!"
According to an Entertainment Tonight interview with some familiar faces back when the series was announced in May, Jasmine Goode and Chad Johnson both seem intrigued by the possibility.
For now, we know Peter will be there, but the rest of the alums who'll be lugging their coats to New England remains a Bachelor mystery. In the meantime, we'll have our fingers crossed for our own personal dream cast and we'll be watching Mike Fleiss' twitter feed like a hawk.