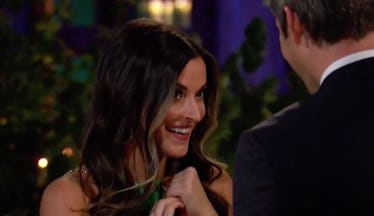 A 'Bachelor' Contestant Asked Arie About His "Little Wiener" & I'm Done With This Show
ABC
I never got into watching The Bachelor, but if I had, I'd officially be done with it now. The entire premise has always been a little left of my RAGING FEMINIST ideologies, but working in entertainment writing sort of forced me to find the fun in a million women competing for the attention of one, very normal man. Cue my new girl, Tia Booth. Bachelor contestant Tia's "little wiener" limo entrance in the latest video teaser is nothing short of iconic, and if you were looking for a reason to love OR hate this show, this is it.
In the latest preview for Arie's season, we catch a glimpse into the first episode. If you guys follow the show, you know this is the contestant's first impression with both the bachelor and America. Trust me, Tia came to play. Hailing from Weiner, Arkansas, this southern beauty pulled out a hilariously silly move by offering a "gift" to Arie.
After giving him a big hug and a gorgeous smile, Tia revealed she was a holding a...
Wait for it...
I know. I know. She explained,
I know you're gonna have a lot of girls here tonight. And, it's gonna be hard to keep track of everyone, so I have a little gift. It's right here. It's actually a little wiener... um, yeah. Please tell me you don't already have a little wiener.
This would have been a great opportunity for a record scratch, but this isn't that kind of production.
To Arie's credit, he just casually responded, "I do not have this, so, you did good." Tia then hilariously mouthed the word "awesome" and told him how nice it was to meet him. (You know, the ol' "tiny-penis-nice-to-meet-you" move.) She then casually tossed out the comment "keep up with that" as she walked away.
If that's not the beginning stages of true love, I'm out. Plus, Arie seemed to like it. As she sauntered off, he said to himself, "I like her."
Me too, Arie. Me too.
Weirdly enough, her accent might sound familiar to you. That's because she's low-key besties with Bachelor alum Raven Gates, who is also from Arkansas. Raven was a fan favorite on Nick Viall's season and also appeared on Bachelor In Paradise. In a seriously stunning Instagram post, Raven shared her good friend's news!
She captioned the image,
I finally get to announce that I'm handing over my Bachelor baton to my BFF @tiarachel91 || my only advice: Just always remember you're not as bad as what your worst critic says you are and you're not as great as what your biggest fan says you are. Find the balance, enjoy the ride. I'm always in your corner!
If Tia is going to take after her friend, we can almost guarantee America will fall in love with her.
Still, competition is fierce, and we know how these things can go. As far as Arie is concerned, he came to find true love, not a tiny wiener.
In his first appearance as the The Bachelor on Good Morning America, he talked about how he knows it's time for him to find a real partner. Arie explained,
I'll be 36 in a few weeks, so for me, it's time. All my friends around me have kids and are grown up, so for me, I feel like I'm the last one of my friends to take that step. And my little brother got married, and he's 24.
Ok, well, we'll buckle up.
Tune into the premiere on New Years Day, Jan. 1, at 8 p.m. on ABC to catch Tia and her tiny wiener.
Check out the entire Gen Why series and other videos on Facebook and the Bustle app across Apple TV, Roku, and Amazon Fire TV.