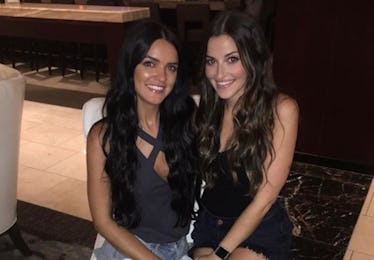 Raven's BFF Tia Is Now On 'The Bachelor' & Their Friendship Is Serious Goals
Instagram/@ravennicolegates
If you're a loyal member of #BachelorNation, you're probably familiar with franchise alum Raven Gates. She's the lovable southern charmer from Nick Viall's season who also appeared on Bachelor in Paradise. But just because Raven is happily coupled up with Adam Gottschalk these days doesn't mean her connection to the next season of The Bachelor is lost. Her best friend Tia Booth will be competing for Arie Luyendyk Jr.'s heart in Season 22. But how do Tia and Raven know each other? These Bachelor besties are homestate pals.
Tia and Raven both hail from Arkansas. You may recall that Raven is from Hoxie, Arkansas — she even took Nick on a hometown date there before she ended up in the runner-up spot in the finale of Season 21. Tia is actually from nearby Weiner, Arkansas (hold those giggles, people), as she proudly stated in her brief intro that aired on ABC's recent "Countdown to Arie" special. "Weiner is a very small town, it's kinda limited on what you can do for fun. We kind of have to make our own fun... Shoot guns and go fishing..." Tia explained.
Hopefully Arie likes to fish, because Tia sounds seriously ready to find everlasting love with the 36-year-old Bachelor leading man. "My perfect ending for this experience is to find my perfect soulmate in Arie and ride off into the sunset in his race car," Tia also said.
Raven's goofy personality and straightforwardness with her feelings not only helped her go far when she competed on Nick's season, it also won over America and solidified her as a definite fan fave. We have to trust her taste in best friends, so perhaps Tia will follow in Raven's footsteps and have a major effect on Arie and #BachelorNation alike.
Raven even referred to Tia as her BFF on a recent Instagram announcing her pal's entrance into the Bachelor universe. She also gave Tia some friendly advice. "I finally get to announce that I'm handing over my Bachelor baton to my BFF @tiarachel91 || my only advice: Just always remember you're not as bad as what your worst critic says you are and you're not as great as what your biggest fan says you are. Find the balance, enjoy the ride. I'm always in your corner!" Raven wrote.
Raven was a boutique owner in Arkansas prior to making a name for herself in reality TV. Her buddy Tia is a physical therapist. According to Tia's ABC Bachelor bio, she lists "lifelong commitment, passion, happiness, best friend" as what marriage means to her. "Bad conversation and awkward, no sense of humor, food in my teeth" are her biggest date fears.
Raven may not have gone home with a ring on her finger after Nick's season — he proposed to winner Vanessa Grimaldi and they've since split — but she did find love under the sun on Bachelor in Paradise. She and Adam, who was a contestant on Rachel Lindsay's season of The Bachelorette, paired up in Mexico over the summer and they've been making it work ever since. The lovebirds aren't exactly shy about expressing their emotions and sharing their adventures on social media and we don't blame them considering how adorable they look together.
Now it's Tia's turn to take a chance at romance on reality TV. We wish her the best on her journey and hope there are no awkward convos and food in her teeth in the future. Arie's upcoming season looks like it's bringing all sorts of drama. We'll have to wait until Season 22 premieres on Jan. 1, 2018 on ABC to see if he and Raven's bestie hit it off.