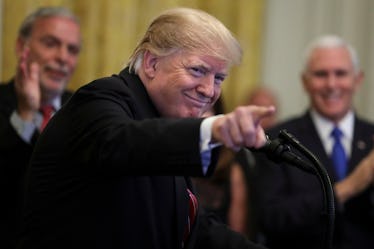 Donald Trump's New Pick For Attorney General Has Some Experience With The Role
Pool/Getty Images News/Getty Images
Ever since Jeff Sessions was ousted from his role as U.S. attorney general back in November, the search has been on for a new lead of the Department of Justice (DOJ). On Friday, Dec. 7, President Donald Trump tapped his next nominee for the role: once-and-future attorney general William Barr, according to CNN. That said, if you're wondering who William Barr is, here's some information on the 68-year-old Republican lawyer.
For one thing, he's not new to the role. Barr previously served as attorney general under the late President George H.W. Bush from 1991 to 1993, per The Washington Post. Since then, he's reportedly worked in the private sector, retiring from his position at Verizon Communications in 2008, Reuters reported.
It might not be totally surprising news, though. People familiar with the matter told the Post on Dec. 6 that the president told his advisers that he planned to nominate Barr, as he seemed to meet many of the requirements Trump is looking for. "The president is very, very focused on [a candidate] looking the part and having credentials consistent with the part," one insider said. Elite Daily reached out to the White House for comment on the selection, but did not immediately hear back.
Before taking over the DOJ, however, Barr will have to be confirmed by the Senate. His previous experience with the confirmation process and approval may be a boon for the Trump administration, which has seen some controversy over picks for high-level roles in the past.
For now, the post is temporarily being held by Matthew Whitaker, who served as United States attorney for the Southern District of Iowa from 2004 to 2009 before an unsuccessful 2014 bid for Senate. Whitaker himself was a controversial pick even as an interim attorney general, due to previous public statements he made criticizing Robert Mueller's investigation into possible collusion between the 2016 Trump presidential campaign and Russia. His comments, including an op-ed published with CNN in 2017, drew speculation that Trump had tapped him in order to block the Mueller investigation, which Trump has repeatedly criticized, deeming it a "witch hunt" that targets him and his aides. The White House did not respond to Elite Daily's request for comment at the time.
Trump announced that he'd appointed Whitaker as acting attorney general on Nov. 7, following Jeff Sessions' resignation from the post. The resignation followed an increasingly strained relationship between Sessions and the president over the then-attorney general's decision to recuse himself from overseeing the Mueller investigation.
But things might be about to get a lot friendlier. When asked whether he had any problems serving under a president who has strongly criticized the Justice Department and the attorney general, Barr reportedly said he had "no hesitation."
Sounds good (for now). Best of luck to Barr. If confirmed, may he have a successful tenure as attorney general.