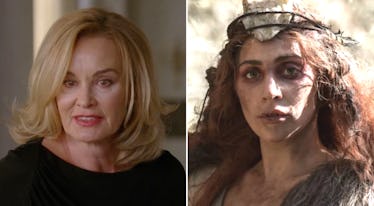 Billy Eichner Shared A Photo With A "Secret" Castmate From 'AHS' Season 8 & We Have Guesses
FX
It feels like we keep getting more and more details about the upcoming eighth season of American Horror Story, but there is still so much mystery around it. Like, we know that it will be a crossover between the Murder House and Coven seasons, but we still don't know the official Season 8 title. We also know a good amount of the cast for the new season, but cast member Billy Eichner just posted a photo obscuring a "secret friend" we don't know about yet who is also in the cast. So... who is the AHS Season 8 secret cast member? Let's talk about all the possibilities and just how likely they are.
First, we must go over everyone who has already been confirmed to appear in Season 8 of American Horror Story. Evan Peters and Sarah Paulson are, as always, a given, and showrunner Ryan Murphy has also confirmed that Kathy Bates will return for the season and Joan Collins is joining the AHS family. A bunch of actors from AHS: Cult are also staying on board for Season 8, including: Billy Eichner, Billie Lourd, Cheyenne Jackson, Adina Porter, and Leslie Grossman. Emma Roberts also recently confirmed she's in Season 8 as her Coven character Madison Montgomery.
Billy Eichner's photo includes all of these confirmed cast members (minus Peters and Roberts), and a ghost sticker covering up someone else. Eichner captioned that this hidden person is "a secret friend...it's gonna be a wild one!"
Obviously, we have to know who this could be! Is it someone new to the franchise or a fan favorite from seasons past? Let's go over the possibilities.
Anjelica Huston
A potential new addition that has been heavily rumored is Anjelica Huston. Ryan Muphy confirmed that he has been talking to Huston about the upcoming season, but so far nothing has been made official as far as casting.
Dylan McDermott
Dylan McDermott has not been on an American Horror Story season since the very first one, but with the news that Murder House is being brought back in Season 8, rumors are flying that Dr. Ben Harmon will return to the series. He also seemed to tease a return on Twitter, so maybe this is who is behind that ghost sticker...
Jessica Lange
I mean... of course we have to wonder this, right? Alongside Evan Peters and Sarah Paulson, Jessica Lange is perhaps the most central and iconic actor to the American Horror Story franchise, but she has not yet been confirmed for Season 8. Lange has starred in both Murder House and Coven, so she could return as either one of her two former characters or in a completely new role.
Taissa Farmiga
With the news that Season 8 will be a Murder House and Coven crossover, Taissa Farmiga's name is probably the first that comes to mind. Farmiga played the de facto protagonist in both seasons, but never appeared in any other season of AHS (except for a cameo part in Roanoke).
Lady Gaga
Now this would definitely be a "wild one," as Billy Eichner described. Lady Gaga starred in AHS: Hotel and appeared in Roanoke, so we know she is down to be on the show. Also, Ryan Murphy teased that "all the witches are being asked back," and he has also said earlier that Lady Gaga's Roanoke character, Scáthach, is a witch connected to the Coven witches.
But wait, there's more! A couple years ago, Ryan Murphy said in an interview that Lady Gaga's Roanoke character will return in a future season that is connected to Coven.
We're going to do a return to the Coven season in some capacity. So that character will be further explored then.
It sure sounds like he is referring to Season 8! Okay, I'm convinced — my money is on Lady Gaga behind that ghost sticker, final answer.