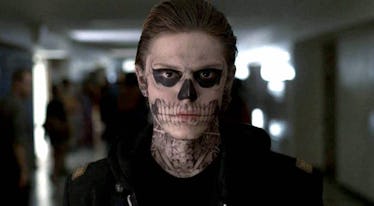 'American Horror Story' Announced Its Season 8 Premiere Date & The Theme Is Coming Soon
FX
The mysterious eighth season of American Horror Story will reveal all of its secrets very soon. Although the horror anthology franchise has not yet revealed what its official title will be, it has unveiled when the new season will begin. The American Horror Story Season 8 premiere date is sooner than you might think, which means the new season's theme will probably be announced any day now!
The eighth season of American Horror Story will premiere on FX in a little over two months, the show's Facebook page revealed over the weekend. The new season will begin airing on Wednesday, Sept. 12.
We may have a date now, but there is still a big question mark over what the theme and title of the upcoming season will be. A couple of weeks ago, showrunner Ryan Murphy revealed that Season 8 will be a crossover between Season 3's Coven and Season 1's Murder House, which had been rumored for a few years now, but he did not detail exactly how the two seasons will interact in Season 8, nor did he reveal the overall theme of the new season. Murphy has revealed a lot of details about the new season, though, so fans already have their speculations about what the theme will be.
The most prominent theory among fans is that the upcoming season will be called American Horror Story: Radioactive. Fans have pointed to the fact that the new season is confirmed to be set in the near future, along with a found trademark sheet from FX with "Radioactive" written on it, as indication that this might be the case, but we will not know for sure until Ryan Murphy confirms it himself. The show's cast is currently holding a contest, promising to reveal the Season 8 theme to the winner, so it sounds like the official theme announcement is coming very soon.
As far as other important details that we know about American Horror Story Season 8, a ton of the cast is already confirmed. AHS veterans Sarah Paulson and Evan Peters will lead the new season, along with returning AHS stars Kathy Bates, Billie Lourd, Cheyenne Jackson, Billy Eichner, and Adina Porter. Joan Collins is also joining the cast, playing the role of Evan Peters' character's grandmother. What remains unclear about the cast is which returning stars will be in character as their Murder House or Coven characters and which will be playing new roles. After all, Paulson and Peters played roles in both previous seasons that will cross-over in Season 8, and Bates had a part in Coven.
Recently, Ryan Murphy teased that Season 8 will include a ton of fan favorites returning to the show, which sounds like a hint at some of the main characters from Murder House and Coven making their reappearance. Emma Roberts seemed to reveal that she will be playing her Coven character of Madison Montgomery in the new season, and Dylan McDermott also dropped a hint that he may return as his Murder House character Ben Harmon. Billy Eichner posted a photo of some of the Season 8 cast together over the weekend, but blocked out "a secret friend" that has not yet been announced as a cast member.
Of course, there are a lot of fans hoping that American Horror Story mainstay Jessica Lange will be announced as a Season 8 cast member, but that is all just speculation as of right now. The secret cast member in Eichner's picture could just as easily be an actor completely new to the AHS family as it could be a returning favorite. It will all be revealed with American Horror Story Season 8 premieres on Sept. 12.