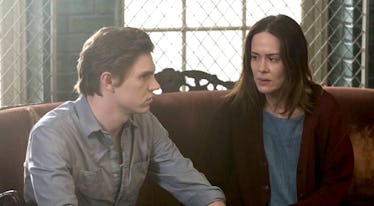 These New 'American Horror Story' Season 8 Details Will Shake You To Your Core
FX
Season 8 of American Horror Story is slated to begin production this month, but as usual, the major theme and title of the new season are still being kept under wraps. Since so much about the new story is still a mystery, fans of the anthology series are eager to get any info to try to piece it together themselves, and now showrunner Ryan Murphy is helping out even more by dropping some new American Horror Story Season 8 details in an interview with Entertainment Weekly. Although Murphy still has not confirmed the theme for the upcoming season, he did spill on some returning cast members and a big twist unlike anything AHS has ever done before. Let's get into everything we know about Season 8 of American Horror Story.
A good chunk of the cast for American Horror Story Season 8 has already been confirmed, but Ryan Murphy teased that there will be a bunch more familiar faces than we already know about. Earlier this year, the AHS team confirmed that mainstays Sarah Paulson and Evan Peters would return to star in the new season, alongside other returning AHS alums Kathy Bates, Cheyenne Jackson, Billie Lourd, Adina Porter, Billy Eichner, and Leslie Grossman. The only new addition to the cast that has been announced is Joan Collins, who will reportedly play the grandmother of Evan Peters' character. While that is already a very full cast, Murphy hinted that fans would see even more iconic characters from seasons past return in Season 8:
You will see so many fan favorites return that you'll feel like it's The Love Boat. It's a very high concept.
It is unclear whether Ryan Murphy was referring to actors or characters when he said "fan favorites," but either way, we can expect a lot of alumni cameos in the new season. This may even include Dylan McDermott, who seemed to tease an AHS return this season on Twitter earlier this year. McDermott has not appeared on the show since Season 1, so this new season has the potential to bring even long-gone AHS stars back into the show.
The other little bit of information that Ryan Murphy dropped about Season 8 is that it will involve a massive twist in the middle that is "unlike anything [the show has] done."
It's a season unlike anything we've done because there's a big hook to it. There's a huge thing that happens in episode five.
What could that be? Unfortunately, it is too vague to tell, but it will definitely make fans excited for the new season. Although we don't know what that twist could be, Murphy has given us a few more details about the new season prior to his latest interview. Earlier this year, the showrunner revealed that American Horror Story Season 8 will be set in the near future, which is something that the series has never done before. Specifically, it will be set "18 months from today" as Murphy stated a couple months ago, and he also teased that in terms of tone, it is most similar to Asylum and Coven than any other past season.
And although the theme for Season 8 has not been revealed, the show's fans already have their best guess as to what it will be. The predominant fan theory is American Horror Story: Radioactive for Season 8, with the guess being that the new season will be set after a nuclear holocaust in the near future. Murphy himself cleverly avoided confirming or denying this rumor, which has fanned the Radioactive flames even more. If the production schedule follows that of previous seasons, then Murphy should be officially announcing the Season 8 title in about a month, so we will know the truth soon enough!