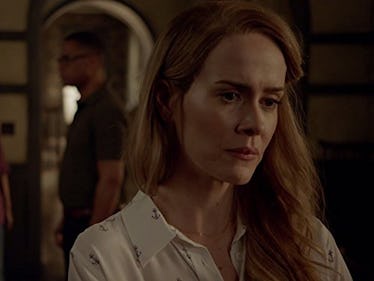 'AHS' Season 8 Will Take Place In The Not-So-Distant Future & It Won't Be Pretty
FX
Rumors about American Horror Story Season 8 are flying, but after weeks of uncertainty, fans finally know a few details about the upcoming installment. In a totally uncharacteristic move, creator Ryan Murphy answered a few questions about Season 8, including which cast members will be returning, the setting, and the overall tone. So, when does AHS Season 8 take place? According to Murphy, Season 8 will be set in the "near future," so get ready to speculate until October about what that could possibly mean.
Murphy knows that the excitement surrounding Season 8 is at an all-time high, so on Friday, April 6, he finally gave in and answered some questions about the new season. During an AHS: Cult For Your Consideration panel, Murphy allowed each cast member and one fan in the audience to ask a yes or no question about Season 8, and they did not disappoint. When Sarah Paulson asked the question that's on everyone's mind — what's the timeline for Season 8? — Murphy told her that the new season "is set 18 months from today." This is shocking news to anyone who was expecting a majorly futuristic season of American Horror Story, because, really, how different could the world be in late 2019?
While Season 8 will be breaking major ground for AHS — it's the first season of the horror anthology set in the future — Murphy promises that it won't be too different from what fans are used to. In fact, the "fantasy inspired" and "heightened" season may remind you of the show's glory days:
We're sort of getting back to the Asylum, Coven feeling. That's the tone of it.
American Horror Story: Asylum is undoubtedly the show's best season, and Coven, while not as scary, is downright hilarious, so Murphy's statement can't possibly be bad. A mix of the totally ridiculous-yet-scary Asylum with the witty, female-driven Coven? Season 8 sounds like a doozy, so you know I'm already counting down the days.
During the panel, Murphy also spilled that the cast will include a few big faces from AHS: Cult. Of course, Paulson, Evan Peters, and Kathy Bates will be returning as stars, but the showrunner revealed that Billy Eichner, Cheyenne Jackson, Adina Porter, and Leslie Grossman will also be returning to the near-futuristic universe. "They don't have to ask if they're coming back because they're all coming back," said Murphy. These four all died in AHS: Cult, so it's unlikely that they'll be returning as their original characters, but hey, anything is possible in American Horror Story.
The fun doesn't stop here: Murphy also revealed new information about Peters' character. "Your part this year is a comedic part," Murphy told Peters, who had no idea who he would be playing in Season 8 until that moment. "You are our comedic and you play a hairstylist." A funny hairstylist is a far cry from the megalomaniac cult leader Peters played in Season 7, but don't worry: if anyone can rock a total transformation, it's Evan Peters. Murphy confirmed that British actress Joan Collins will play Peters' grandmother, so expect her to have very, very fabulous hair.
Practically the only thing Murphy didn't discuss is the Season 8 theme, which some fans are convinced will be AHS: Radioactive. When Murphy was asked about the Radioactive theory in March, he said that he could "neither confirm nor deny" the rumors, but he did acknowledge that "it's an interesting idea." Season 8 is scheduled to begin production around June 16, per Murphy, so let's hope that some set photos leak to confirm (or put to rest) the Radioactive theory once and for all.
American Horror Story Season 8 will return in Fall 2018 on FX.