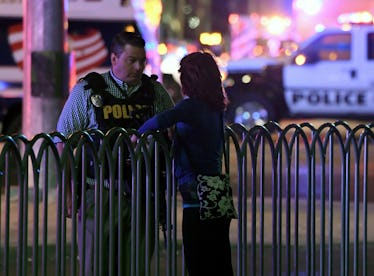 Who Is Sonny Melton? The Las Vegas Shooting Victim Died Saving His Wife
Ethan Miller/Getty Images News/Getty Images
At about 10 p.m. on Oct. 1, a gunman opened fire onto concertgoers at the Route 91 Harvest Festival in Las Vegas, Nevada, killing at least 58 people and injuring 515 more. One of the victims was Sonny Melton. But who is Sonny Melton? Here's what you should know about one of the people who lost their lives in this senseless tragedy.
Melton, 29, was a nurse from Big Sandy, Tennessee, a small town about 150 miles northeast of Memphis. He used his body to protect his wife, orthopedic surgeon Doctor Heather Gulish Melton, from gunfire at the festival, according to his best friend Jeremy Butler, who spoke to The Paris Post-Intelligencer.
"At this point, I'm in complete disbelief and despair. I don't know what to say. Sonny was the most kind-hearted, loving man I have ever met. He saved my life and lost his," his wife said in a statement to Fox 17 News.
According to Melton's Facebook page, he was a registered nurse at the Jackson-Madison County General Hospital in Jackson, Tennessee. He studied finance at the University of Tennessee at Martin and nursing at Union University. He also checked into the Route 91 Harvest Festival on September 29 at 10:04 p.m.
Sonny and Heather Melton got married about a year ago and have lived in Big Sandy ever since. Butler said the couple was in the process of building a house on Kentucky Lake, a major reservoir along the Tennessee River in Kentucky and Tennessee.
"He's been my best friend since I was three. His mom is like a second mother to me," Butler said.
Tennessee Governor Bill Haslam expressed his condolences in a statement:
"I am praying for the many people affected by the senseless act of violence in Las Vegas. In particular, Crissy and I extend our condolences and prayers to the family of Sonny Melton from West Tennessee who was among those killed in this tragedy."
President Trump addressed the nation the morning of Oct. 2, giving updates on the tragic incident in Las Vegas. He thanked the first responders in Las Vegas for their "courageous efforts" and for finding the shooter "so quickly." He also called for unity and described the situation as "evil."
In part, he said,
We call upon the bonds of citizenship, the ties of community, and the comfort of our common humanity. Our unity cannot be shattered by evil; our bonds cannot be broken by violence. And though we feel such great anger at the senseless murder of fellow citizens, it is our love that defines us today and always will forever.
He concluded his address with,
In times such as these, I know we are searching for some kind of meaning in the chaos some kind of light in the darkness the answers do not come easy. But we can take solace knowing that even the darkest space can be brightened by a single light, and even the most terrible despair can be illuminated by a single ray of hope.
The shooting in Las Vegas is the deadliest mass shooting in U.S. history, according to the Associated Press. The gunman, identified as a Nevada local, opened fire from the 32nd floor of the Mandalay Bay Hotel and Casino onto concertgoers watching Jason Aldean's performance at the festival across the street. After SWAT teams stormed the gunman's hotel room, they found that he was in possession of "as many as 10 guns, including rifles" and had killed himself.
"We have no idea what his belief system was," Clark County Sheriff Joseph Lombardo said. "We've located numerous firearms within the room that he occupied."
Videos of the shooting show people screaming at others to get down. Hundreds of bullets are heard being fired at the crowd.
So far, only a few of the victims have been publicly identified of the dozens who lost their lives. We will never forget the innocent lives lost in this awful tragedy.