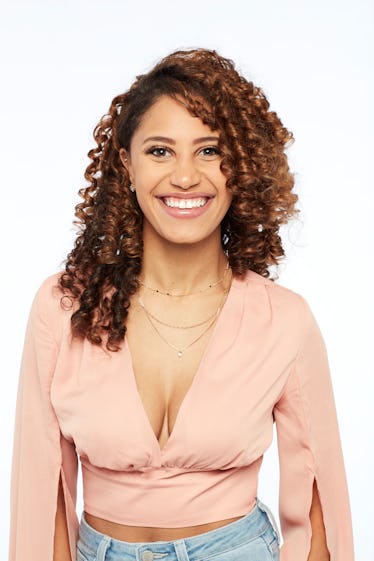 Could This New 'Bachelor' Contestant Be Matt's Next Frontrunner?
ABC/Craig Sjodin
Just when you thought The Bachelor couldn't get any more dramatic, the series introduced some new contestants smack in the middle of the season. During the Jan. 25 episode, fives new cast members arrived at Nemacolin Resort (where Season 25 is filmed) to stir things up. So, who is Ryan on Matt's Bachelor season? Here's what to know about her:
Matt was already bonding with 18 different women at the start of Week 4, so adding in five new contestants was really shook things up. As the current cast members watched the women exit the limo, they were angry, especially when newcomer Brittany made out with Matt as a greeting. And while Ryan didn't ruffle feathers with a kiss, she did make her feelings for Matt crystal clear. "Oh my gosh," she shouted as soon as she hopped out of the limo. "You look so fine!"
For some, shouting about how hot someone looks might be scary, but the 26-year-old from Brooklyn definitely doesn't shy away from a spotlight. As a professional dancer and choreographer, expressing herself is part of the job for Ryan.
According to Ryan's ABC bio, "she's worked incredibly hard to achieve success in the dance world and just like in any good routine, she is hoping to find a partner in life with whom she has undeniable chemistry." She clearly knows what she's talking about: The self-proclaimed "dance artist" attended a scholarship program at New York City's Alvin Ailey School and played a dancer in FX's Pose.
Ryan's bio also says she's "hoping to find a partner in life with whom she has undeniable chemistry." Additionally, she "intends to only get married once," so if Matt's her person, they'd be in it for the long haul.
Extra bonus? Matt is totally her type. Ryan thinks "a guy who can handle conflict with poise and grace is a huge turn-on" and she highly values the service of others and giving back to the community — two attributes the Bachelor has proven to be all about. After scoring a rose in her first ceremony, it looks like Ryan and Matt just might be able to wrap up the season together and head back to New York in love.
Season 25 of The Bachelor airs on Mondays at 8 p.m. ET on ABC.