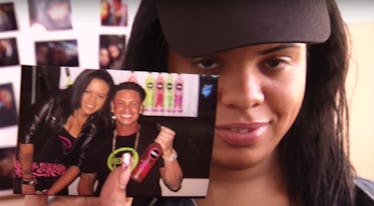 Pauly D's "Stalker" From 'Jersey Shore' Makes An Appearance On 'Family Vacation' & It's Perfect
TLC
It may have taken all of Jersey Shore Family Vacation, but Pauly D finally found a woman... or actually, she found him... by tracking him down. An old favorite from the original Jersey Shore series made her triumphant return on Thursday night's Jersey Shore Family Vacation finale, and although the unexpected reunion definitely felt pretty creepy at first, it actually turned out to be surprisingly sweet. If you don't remember the original series so well and were asking who is Pauly D's "stalker" on Jersey Shore, I have got all the info you need on the professional Pauly D fan right here.
During the final two seasons of Jersey Shore back in 2012, the cast began to notice a woman popping up everywhere they went, and she seemed to have a particular interest in DJ Pauly D. Nothing much really happened with this woman, although Pauly D was definitely creeped out by her constant presence, and even noticed that she had gotten large star tattoos on her elbows to match Pauly's (check out that clip here).
Well, it turns out that this woman was named Vanessa, and it is no mistake that she is so good at finding Pauly D: she has tons of experience in stalking celebs! Vanessa even appeared on an episode of TLC's docu-series My Crazy Obsession shortly after Jersey Shore ended to talk about her daily routine of running to find celebrities to take pictures with and get autographs from. Check out the clip of Vanessa below:
And in case anyone was wondering if Vanessa still had her stalking skills, she proved her love for DJ Pauly D is as alive as ever with a surprise appearance in Thursday night's Jersey Shore Family Vacation season finale. While Pauly D was DJing at the club to celebrate the gang's last night in Miami, Vanessa appeared out of nowhere right behind him. The ever-preceptive JWoww was the first to notice the familiar face next to Pauly D, and eventually, Pauly turned around and came face-to-face with Vanessa once again. She had flown all the from the Jersey shore to Miami just to see Pauly, and had no shame in telling him that.
It looked like the situation was going to get pretty bad, but surprisingly, Pauly D actually came around to embrace Vanessa's rather... intense... love for him. Instead of seeing her as a "stalker," Pauly D confessed that now he views her as a super-fan, and gave her a hug and a shoutout during his DJ set. Surprisingly, it turned out to be a pretty sweet moment and a perfect way to conclude all of the past drama. Check out the clip of Pauly D's reunion with Vanessa below:
Although Vanessa was a blast from the past, the Jersey Shore cast is now looking towards the future as their first season of the reunion series Jersey Shore Family Vacation has officially come to an end. Although the Miami season is done, the cast is already busy filming the second season of the show, which will be set in Las Vegas this time.
The new season does not have an official release date yet (duh, it only just began filming), but judging by the production process of Season 1, fans can probably expect Season 2 to begin airing on MTV towards the end of 2018. And of course, as anyone who has been following the news about the cast knows, there is a lot that the new season needs to cover, including The Situation's wedding planning and Ronnie's breakup with his girlfriend, Jen Harley. I'm sure Vanessa is already booking her flight to Vegas as we speak.