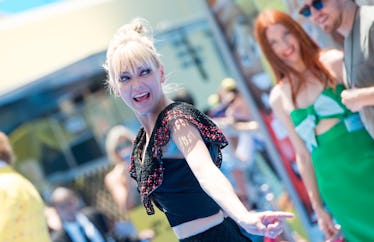 Anna Faris Apparently Has A New Boyfriend & There Are Photos
VALERIE MACON/AFP/Getty Images
I know... I like to pretend Anna Faris and Chris Pratt never broke up, too. It's easier to think about our beloved stars as just "taking a break" and "for sure going to get back together, you just wait." Alas, it looks like this breakup might be the real deal. Faris is reportedly dating a new man — cinematographer Michael Barrett. Of course, we have a lot of questions, but mainly everyone is wondering... who is Michael Barrett? And, what are his intentions with our dear Anna? And, "Yeah, but did he domestically train a bunch of raptor dinosaurs? I DIDN'T THINK SO."
Elite Daily reached out to Faris' team for comment, but did not hear back by the time of publication.
After eight years of marriage, the world was heartbroken to find out that Faris and Pratt were ending their relationship back in August 2017. It came as a shock, as the two always seemed like a match made in weirdo-Hollywood heaven. Together, Pratt and Faris co-parent their 5-year-old son, Jack.
In an initial statement on Facebook, Pratt wrote,
Anna and I are sad to announce we are legally separating. We tried hard for a long time, and we're really disappointed. Our son has two parents who love him very much and for his sake we want to keep this situation as private as possible moving forward. We still have love for each other, will always cherish our time together and continue to have the deepest respect for one another.
Queue the heartbreak... and Michael Barrett's entrance, I guess?
According to E! News, Barrett's film credits include Faris' upcoming movie, Overboard, which will be a remake of the 1987 original starring Goldie Hawn and Kurt Russell.
The original movie, in the smallest of nutshells, is about a rich, spoiled woman who falls overboard on her yacht, loses her memory, and is convinced by a handyman that she is his wife and mother to his kids. Somehow, despite all the super messed-up facets of this plot, they end up falling in love. (For funsies, the lead roles will be reversed in the remake.)
In working together, it looks like Faris and Barrett might be more than colleagues.
According to E! News, two sources say they saw the pair eating at a nice Italian restaurant called Modo Mio in Los Angeles on two separate occasions. At the first meal, an eyewitness explained they split a bottle of red wine and that it definitely "looked like a date."
They said,
They were laughing at the table. She looked very happy and had a smile on her face when she was leaving.
Barrett picked up the tab.
The second eyewitness says at their follow-up trip to Modo Mio a day later, the two nommed on various pastas and that it was "definitely a dinner date."
It seemed romantic in the way they were looking at one another and how they were laughing at the table... No one in the restaurant realized it was her, but she definitely looked to be on a date.
Later in September, Barrett and Faris stepped out together again to hang out at a local carnival in L.A. The two were dressed pretty low-key, and sipped on wine and beer together while enjoying the sun.
I don't know, man. Part of me is like, "LET'S JUST LET THEM LIVE!" and then another part of me is like, "BUT WHAT ABOUT CHRIS?"
Faris explained in a recent interview with People magazine that she and her ex are creating a "new normal." She said, "We'll always have each other and be incredible friends."
Ugh. Fine.
Check out the entire Gen Why series and other videos on Facebook and the Bustle app across Apple TV, Roku, and Amazon Fire TV.