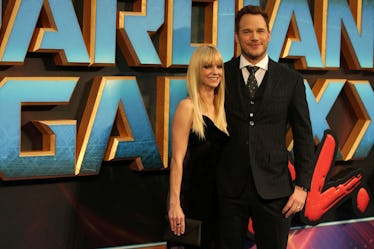 Anna Faris Reveals She Left Her First Husband For Chris Pratt & The Story Is Intense
DANIEL LEAL-OLIVAS/AFP/Getty Images
Whoa. Anna Faris is letting it all hang out in her new book, and we are here for it in every way. Show me a person who hates tell-all memoirs, and I'll show you a liar. So, what did Faris reveal in her new book? Well, apparently Anna Faris dumped her first husband for Chris Pratt. How did we miss this? I think we were all so overly excited Faris and Pratt were dating, we didn't even think about Faris' first husband. Yikes, sorry about that.
If you've been hiding under a pop culture rock for the last year, here's the scoop. Chris Pratt and Anna Faris were married for 10 years. They have an adorable son, and everyone in the world was obsessed with them and their relationship... until the famous pair tragically broke up and divorced. It was heartbreaking for us all. I'm getting a little teary-eyed just thinking about it. Luckily for us, Faris wrote a book all about her life and relationship, so we all have something to look forward to. Anna Faris' autobiography, Unqualified, comes out this month, and fans of Faris and Pratt are anticipating its release. I wonder what other juicy details she will share. I'll be waiting, Anna.
In a story from the book that was just released, Faris revealed that she ended her first marriage to be with Pratt. Faris explains that she met Pratt on the set of Take Me Home Tonight in 2007. She says that during this time, she felt herself becoming unsatisfied with her current marriage to Ben Indra, who she had been with for three years.
The actress shared that neither her nor her first husband "were happy in the relationship," which had "many red flags." Ouch. She said she recognized her feelings for Pratt one night at a get together with co-stars at the actor's apartment. Faris admitted she "couldn't deny that something was happening between us." She also recalled getting "jealous" of the other actresses and knew she felt something for Pratt.
The next day, she called one of her friends to get his thoughts on her ending the marriage. She said,
[He] also told me that if I was going to leave my husband, I had to be a surgeon with a scalpel about it. Do it immediately and effectively.
The Scary Movie star explains,
But even on the phone I had to repeat myself a number of times before he took me at my word. 'You're just tired; you're really tired,' he responded at first. I just said: 'Nope, I'm leaving you.' And that was that.
After Faris ended things with her former husband, she acted quickly with Pratt. She adds that she and Pratt got "hot and heavy in a way that I'd never experienced before."
This book is going to be a page turner.
That's one seriously intense story. As far as I'm concerned, I didn't even know Faris was married before Pratt.
Pratt posted about their separation on Facebook on Aug. 6 and the hearts of fans around the world collectively broke. He said in the post,
Anna and I are sad to announce we are legally separating. We tried hard for a long time, and we're really disappointed. Our son has two parents who love him very much and for his sake we want to keep this situation as private as possible moving forward. We still have love for each other, will always cherish our time together and continue to have the deepest respect for one another.
Faris and Pratt may never get back together, but we can all hope.