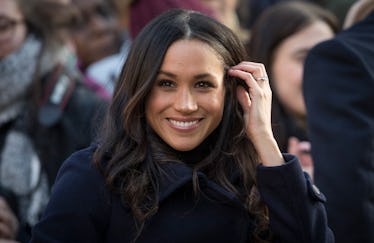 Meghan Markle's Mother Is Just As Amazing As Her Future Royal Daughter
Christopher Furlong/Getty Images Entertainment/Getty Images
Your mother can be one of the best friends you ever have. Mothers are there for you as you are growing up, and continue to be there for you when you struggle with adulthood. We totally get it, adulting is hard and only a mother can truly help us out when the struggle is real. You know, forget diamonds, a mother is truly a girl's best friend. And the recently engaged princess-to-be Meghan Markle totally knows that. Though, who is Meghan Markle's mother?
Ever since Prince Harry got down on one knee and proposed to Meghan Markle, she's been all anyone can talk about. We know Markle as her character Rachel Zane from the TV show Suits, but we're just now getting to know who the real Meghan Markle is. That also includes her family. No, I'm not talking about the royal family she will be marrying into. We know enough about them from watching The Crown on Netflix. Now we want to know where Markle comes from and who her family is. Well, Meghan Markle's mother is yoga instructor and social worker Doria Radlan, and she currently lives in California.
According to The Sun, when Markle was 6 years old, her parents got divorced. Afterward her parents split, she lived with her mother in Los Angeles. Markle revealed that growing up she dealt with some racism and bullying as people would question whether she was truly her mother's biological daughter –because Radlan is African American. Markle wrote in Elle Magazine that "being biracial paints a blurred line that is equal parts staggering and illuminating." Though struggling with being mixed race growing up, Markle has said that now she has "come to embrace that. To say who I am, to share where I'm from, to voice my pride in being a strong, confident mixed-race woman."
What Does Meghan Markle Think Of Her Mother?
Markle has described her relationship with mother in Glamour as saying, "we can just have so much fun together, and yet, I'll still find so much solace in her support. That duality coexists the same way it would in a best friend." If you have a close relationship with your mother, you can totally relate to how Markle feels about her mother. A mother is both someone who supports you, but also is fun to be around. That duality is something that is so special and unlike any other relationship you can get.
Markle is so close to her mother, and even Prince Harry knows that. It was actually at the Invictus Games in Toronto this year when Prince Harry asked Radlan's permission to propose to Markle. And we're so glad she gave her blessing because these two are and we cannot wait for a royal wedding. It was in November, when Radlan and Markle's father gave the couple their official blessing saying, "We wish them a lifetime of happiness and are very excited for their future together."
A Little Bit More About Doria Radlan
Radlan seems like an amazing mother, and it's probably from all the high praises not only from Markle but also Prince Harry said in the couple's first joint interview that Markle's mom is "amazing." We also know that her mother loves her daughter so much that she drives a car with the registration plate reading "MEGNME," and has the affectionate nickname for her daughter, "flower." She truly sounds like one amazing mom, and we're wondering how Markle got to be so lucky. She has a wonder best friend mom, and a prince for a fiance. What more could a girl want? Honestly, all this amazingness is truly deserved and we're wishing Markle and Radlan all the best.