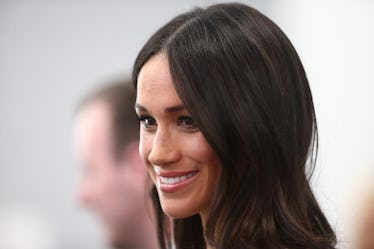 Meghan Markle Reportedly Didn't Invite Her Brother To Her Wedding & He's NOT Happy
WPA Pool/Getty Images Entertainment/Getty Images
It's tough being royalty. At least that's what Meghan Markle is finding out. Ever since the world first caught wind that she and Prince Harry were engaged, it feels like every day a new detail about her personal life, career, relationship, or wedding is unleashed on the public with the perceived importance of the secret to life. I'm exhausted, and I'm not even Meghan. With her wedding date impending, new criticism has leaked out against the bride-to-be, and this time, it's from her family. Meghan Markle's half-brother, Thomas Markle Jr., spoke with reporters about not being invited to his sister's wedding, and his comments are scathing.
Reports suggesting Markle has baggage with her family have been circulating the media for some time, and everything has become much more heightened since the guest list for her and Prince Harry's wedding went out. Her half-brother, Thomas Jr., 51, recently spoke with The Daily Mirror about his sister and has some unkind words to say about her character. He told the publication her decision to leave him and other family members out of the wedding has "torn [his] entire family apart," adding, "She's clearly forgotten her roots." Elite Daily reached out to Meghan Markle's team for comment, but did not hear back by the time of publication.
Thomas Jr. says the person fans know and love today is actually just an act Markle is putting on for the public. He claims,
Meg likes to portray herself as a humanitarian, a people's person and a charitable person, but she is none of those things to her family. She is giving the greatest ­performance of her life. She is acting phony. Once she got into Hollywood she turned into a different person. She's clearly forgotten her roots and her family.
He added, "Maybe the normal American family she has is embarrassing to her because we're not producers and executive producers."
Oof.
Thomas Jr. explained he feels Markle is trying to be like her fiancé's late beloved mother, Princess Diana, but claims that is just a show, too. He told Daily Mirror,
I've read that Meg wants to be like Diana. Diana was worshipped by everyone in the world. She was loved for the right reasons. That's what Meg wants, but I don't think that's going to happen. She's not genuine like Diana.
He also said the engagement has shown him a "whole different side" to Markle, and that it's "ugly to see."
Thomas Jr. says he hasn't spoken with Markle since 2011, but came to her defense when their sister, Samantha Markle, accused Meghan of turning her back on their family in October. Thomas Jr. said, "Trying to put a lid on Samantha and get her to be quiet backfired and started a rift of insults. It has torn my entire family apart."
He added, "None of us has heard a word from Meg and what with all that has been said no longer do I speak to Samantha or my two sons. I had hoped Meg might have appreciated the support I gave but it's meant nothing to her, it would seem."
Thomas Jr. isn't the only family to speak to the press about not being invited to the big wedding. Earlier in March, Markle's cousin Tyler Dooley and his mom Tracy, who claims she hasn't seen or spoken to Markle in 20 years, talked with Good Morning Britain about the wedding snub.
Tracy said,
Chances are ... I don't think we're going to get the invitations. And, that's just fine. We're OK with that. But, we're supporting her on and having a good time. So proud of her.
Markle and Harry's wedding is exactly one month away and scheduled for Saturday, May 19. And, for whatever it's worth, I'm not upset that I didn't get an invitation. I feel like I have been involved 100 percent the whole way.
Check out the entire Gen Why series and other videos on Facebook and the Bustle app across Apple TV, Roku, and Amazon Fire TV.