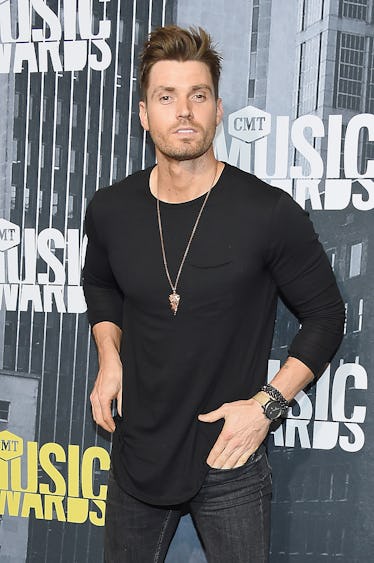 Luke Pell Is Rumored To Be Dating Someone After 'Bachelor Winter Games' & It's Not Stassi – UPDATE
Michael Loccisano/Getty Images Entertainment/Getty Images
In case you didn't know, The Bachelor Winter Games is a transcendent spinoff show from The Bachelor and The Bachelorette, and if you think I'm joking the way that I'm describing it, you're absolutely wrong. It's got everything you could possibly want: competitions where the stakes are high, amazing commentary, and, of course, some hardcore ~love~ connections. One of the the world's favorite couples to watch on the show was Luke Pell and Stassi Yaramchuk, but many fans want to know: Who is Luke Pell dating after Bachelor Winter Games? Have the two continued on with their relationship, or have they both (sadly) gone their separate ways?
UPDATE: Bachelor fans learned during the World Tells All after Bachelor Winter Games that Luke and Stassi are no longer together. According to Stassi, Luke ghosted her after the show ended and never even so much as got her phone number. While Luke didn't reveal if he's dating anyone at the moment, it's definitely safe to say he's not dating Stassi.
EARLIER: Well, I have some bad news, and it doesn't look good for Luke and Stassi.
It seems that Luke may have found someone else. There are rumors floating around on social media that Luke Pell is already dating a woman named Holly Allen, and the story is a bit of a gaping black whole of DRAMA.
Let's recap: We first met Luke Pell on JoJo Fletcher's season of The Bachelorette and —spoiler alert — he didn't win. Stassi Yaramchuk was on The Bachelor: Sweden and, yep, you guessed it, she didn't win, either. When they first arrived on the Bachelor Winter Games, it wasn't an instant love connection, but it didn't take long for things to start getting steamy. And by steamy, I literally mean a steaming hot tub where Luke and Stassi relaxed (and looked eerily similar to a date that Luke shared with JoJo during his time on The Bachelorette, which made fans cringe):
Imitation is the sincerest form of flattery, I guess?
The world fell a little bit more in love with the couple, though, during the kissing contest, when Luke kissed Stassi in a way that most women would give their right arm to be kissed:
Mhm. Feelin' it. Feelin' it good.
So a lot of fans were hoping that maybe, the two were still making it work, despite being from two very far-away destinations. While I want to say that the couple has been reportedly gushing about their love and determination to make a long-distance relationship work, I'm pretty sure that's not the case.
A bummer, I know.
If you look at Luke's Instagram, you'll see zero hints that he and Stassi are hangin' out.
Here he is in "#therapy" all by himself:
And here he is with a very lovely lady who isn't Stassi (and also some fellow alumni):
And it looks like Stassi has been doin' the damn thing, sans Luke:
Still slaying though, I see.
And folks, I'm going to throw a wrench in this whole thing and explain what fans on Twitter are reportedly saying. According to the website RealitySteve, Pell may have been hiding a secret girlfriend, named Holly Allen, long before his time on Bachelor Winter Games. Allen, who was former 2012 Miss Wyoming, worked at the Malibu Wine Safari back in 2017.
That information seems sort of pointless, but stay with me here, people.
According to RealitySteve, Pell was seen at the Malibu Wine Safari at the same time that Allen would have been working, meaning the pair may have known each other back in 2017 before Pell even starred on The Bachelorette.
But you guys, RealitySteve is just a spoiler site, meaning the things that are posted may or may not be true. And in the past, the website has been wrong.
Fans had a few things to say after RealitySteve took to Twitter to talk about the rumored relationship between Luke and Holly:
So, while there's no confirmation about any of these rumors, I think it's fair to say that Luke and Stassi are definitely no longer a "thing."
Entertainment Tonight delivered a sneak peek of the Bachelor Winter Games: World Tells All reunion special, and the clip shows a pretty disinterested Luke having a conversation with an emotional Stassi, and it's pretty hard to watch:
Ugh. So much for finding true love on reality television.