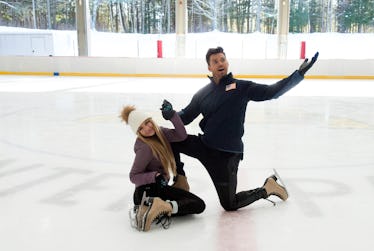 Luke Pell Ghosted Stassi After 'Bachelor Winter Games' & The Story Is Unreal
ABC
Bachelor Winter Games has made several potentially long-lasting love connections, but there's one couple who did not get a fairytale ending after the show wrapped. According to a revelation on Thursday's enlightening World Tells All reunion special, Luke Pell ghosted Stassi following their departure in Vermont, and now Bachelor Nation is brokenhearted by the news.
Sparks immediately flew between Nashville's own Luke Pell from JoJo Fletcher's season of The Bachelorette, and Stassi, a former contestant from Bachelor: Sweden. The pair quickly found common ground through an honest conversation about their mutual experience of dealing with health issues related to the heart. After speaking openly in the second episode of the show, they went on a sweet date that found them growing closer and taking the next steps to form a real bond. The twosome continued to couple up throughout the remaining episodes, and it looked like they may even win the whole thing when they wowed the judges with their remarkable ice dancing routine on Thursday's finale. "What does the future look like? What does a month from now look like... what do you see?," Luke asked Stassi on the final episode. "If I met love of my life, I will follow him. I want to love and be loved 'til my last day I live. 'Til my last breath," Stassi explained of her willingness to go the distance if it came to that.
But just because Luke and Stassi were gliding into exploring the possibilities of the future does not mean they are still on romantic terms. In fact, Stassi alleges that quite the opposite transpired once the cameras stopped rolling.
They might have skated beautifully while competing, but these two are on thin ice now.
"I have more questions than you," Stassi told Chris Harrison when he asked about their relationship status on the World Tells All reunion. "He doesn't even have my number." She even introduced herself to Luke when he came out as if they had never met — her reception was chillier than a Vermont December.
"Everything that happened when we met was unexpected," Luke explained. "All the cameras shut off and we're down to staring at the barrel of life." He then pointed to geographical distance as the reason they didn't make it.
But Stassi wasn't having it, revealing that he "didn't even try" once the show wrapped. "How after this you could not been have any contact? How after this, you can cut a person from you life completely?" she asked through tears. Luke apologized and said he never intended for it to go that way, but Stassi said she "must have missed" the part where they broke up.
When asked about his relationship status in an interview with Haute Living earlier this month, Luke confessed, "I have found love, but it might not be the love that has lasted forever." Um, if he's referring to Stassi, then maybe it would have been nice to clue her in on this nugget of information.
Over the past few months, Luke's been steadily doing the country music thing, continuing to promote his songs and his touring schedule via social media. Stassi's Instagram leans more towards selfies, modeling photos, and inspirational quotes — but it looks like she really made some beloved pals in Vermont (notice how Luke is missing in the below pic?).
Luke was on the opinionated lips of Bachelor Nation last summer as a potential candidate for a Bachelor leading man gig prior to the announcement of Arie. So, could we see the country crooner taking a chance on another version of the franchise at some point in the future? Pell recently revealed to Metro:
I don't know where I'll be in a year. If a year comes down the road and there's an opportunity at that point, I'll make that decision, but right now, I'm living everyday just where it's at and just for that day and not trying to think too hard or plan too hard of my expectations or where I might be [with relationships] or even professionally at that point. It's a little bit easier to process that way. We'll see what happens.
After Luke's dating debacle with Stassi, he may not be a frontrunner for the position any longer, but you never know what can happen in Bachelor land.