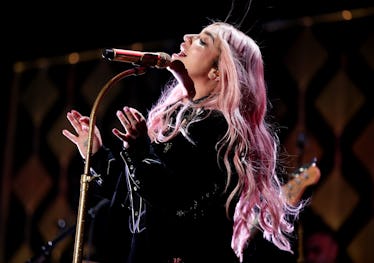 Kesha's Comment About Her Rocker BF Prove They're Perfect For Each Other
Christopher Polk/Getty Images Entertainment/Getty Images
I didn't realize how much I missed Kesha when she was gone, but man I'm glad to have her back now. After catapulting back into the music scene with her epic single "Praying," followed by the wildly successful launch of her new album, Rainbow, Kesha is back in a big way. I'm sort of in love and it has me wondering, who is Kesha dating? Oh, just some long-haired, sweet, handsome rocker man, obviously. I mean, who did you picture?
It's not clear when Kesha first met her boyfriend, Brad Ashenfelter, but we know it was at least a few years ago. Rolling Stones claims Kesha's stylist was the first person to introduce them. At the time, Kesha was way into guys with beards (you remember) and apparently, Ashenfelter had a face as smooth as a baby's bottom. Still, Ashenfelter won her over pretty quickly with just one simple kiss. Kesha explained,
He kissed me, and it was the nicest kiss I ever had. I was like, 'Wow, you're such a pure soul. Holy shit.'
She added from that moment on, she knew "I gotta hold on to you." In fact, Ashenfelter and Kesha spent much of their early days hanging out at Kesha's rehab facility while she underwent treatment for an eating disorder. According to Rolling Stone, they would color together for hours and "that was their courtship."
Today, Kesha and Ashenfelter live in Venice, California, with her three cats, Charlie, Mr. Peeps, and Queso. Despite her apparent blissful relationship and lifestyle, she isn't convinced she and her boyfriend will stay in Venice for long. She said,
I don't know if I'm ever going to stay in any one place for a couple years at a time. I want to live on an island in the Caribbean, on a boat at some point, like that's a goal. But I don't know how my cats would feel about it.
For Kesha, this past year has been all about growth and transformation, so we wouldn't put it past her if she uprooted her life.
When she first released "Praying," Kesha penned an emotional and honest essay for Lenny Letter. In it, she did not mention her relationship with Ashenfelter, but did touch on how she found strength through love. She wrote,
"Praying" was written about that moment when the sun starts peeking through the darkest storm clouds, creating the most beautiful rainbow. Once you realize that you will in fact be OK, you want to spread love and healing. If you feel like someone has wronged you, get rid of that hate, because it will just create more negativity.
She continued,
In the past couple of years, I have grown into a strong, independent woman. I have realized through this long journey of ups and downs that if I'm lucky enough to have a voice that people listen to, then I should use it for good and for truth. I've battled intense anxiety and depression, a relentless eating disorder, and all the other basic bullshit that comes with being human. I know I'm not alone in that battle.
In true rock star form, Ashenfelter and Kesha share similar tattoos of skulls and rainbows. While we aren't sure what the symbols mean to Kesha and her BF, we do know we totally dig the look.
Seems like these two are a match made in psychedelic heaven.
Kesha is nominated for two Grammys this year, one for Best Pop Vocal Album and the other for Best Pop Solo Performance. Tune in to CBS on Sunday, Jan. 28 to see if she takes home the awards.
Check out the entire Gen Why series and other videos on Facebook and the Bustle app across Apple TV, Roku, and Amazon Fire TV.