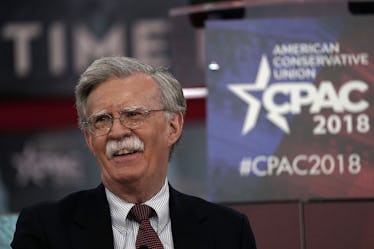 Donald Trump Announced Another Staff Change On Twitter, & What Is Even Happening?
Alex Wong/Getty Images News/Getty Images
There's yet another shakeup in the Donald Trump White House. After weeks of moving staffers around like pieces on a chess board, President Trump has announced another shift in his cabinet (yes, on Twitter again) and gave Lt. Gen. H. R. McMaster the boot. But who is John Bolton, Donald Trump's newest national security adviser?
On March 22, Trump tweeted that McMaster is out as national security adviser and will be replaced with Bolton — a former United States Ambassador to the United Nations, effective as of April 9. According to The New York Times, Bolton has often discussed foreign policy with Trump and was in the West Wing on Thursday to discuss the position.
Reportedly, General McMaster had been planning to retire from the military for quite some time, officials told The New York Times. He and Trump were discussing his departure for a few weeks, but decided to speed it up because it was "casting a shadow" over Trump's conversations with foreign officials, according to White House officials.
Officials also stated that this was the next step in Trump solidifying his national security team before his meeting with the leader of North Korea, Kim Jong-un.
Bolton, therefore, is not a surprising choice.
During the George W. Bush administration, Bolton served as undersecretary of state for arms control and was a strong advocate for the Iraq War. According to Vox, he was one of the chief voices arguing that Iraq had weapons of mass destruction (WMDs). "We are confident that Saddam Hussein has hidden weapons of mass destruction," Bolton said in 2002. Bolton believes in a regime change in both North Korea and Iran, and as Trump gears up to to talk to Kim and weigh in on the Iran nuclear deal, it makes sense for him to have chosen Bolton to be at his side, particularly as Bolton once said that Trump should "abrogate the Iran nuclear deal in his first days in office," according to NPR. In fact, Bolton's openly advocated for the United States to declare war on both North Korea and Iran. And now he will take his place in the White House as national security adviser. So that's reassuring.
It's not the first time Trump has announced a staffing change via Twitter.
In a March 13 tweet, Trump fired Secretary of State Rex Tillerson and replaced him with CIA Director Mike Pompeo. According to The New York Times, Tillerson had no idea he was fired until a White House aide showed him Trump's tweet. The president reportedly called Tillerson from Air Force One a few hours later and gave him the news.
According to White House officials, the McMaster scenario is not like that. They emphasized to The New York Times that the decision was mutual, and in a statement, Trump made it very clear that he thinks very highly of McMaster. He said,
H.R. McMaster has served his country with distinction for more than 30 years. He has won many battles and his bravery and toughness are legendary. General McMaster's leadership of the National Security Council staff has helped my administration accomplish great things to bolster America's national security.
Officials claimed that McMaster's resignation had nothing to do with the leak of briefing materials for Trump's call with President Vladimir Putin of Russia.
On March 20, a leak revealed that Trump's national security team advised him not to congratulate Putin on his election victory during their call that morning. Specifically, Trump was warned in a big, all-caps note which read "DO NOT CONGRATULATE." (Trump reportedly congratulated Putin anyway.)
A source told CNN that Trump was pretty angry about the leak and asked his trusted allies and advisers who they thought might have caused it. The ordeal brought back to light Trump's thinking that there are people in his administration — especially in the national security team — who can't be trusted and are "working to undermine him," the source said.
With McMaster resigning after the leak, Twitter was a little skeptical about the "mutual decision" of it all.
But with all the turnover at the White House as of late, seeing another one go wasn't all that surprising.
At this point, so many people have left the White House, it's hard to keep track. As it stands now, the count is at 21 members of Trump's administration who have either resigned or been fired (mostly via Twitter). The OG Trump White House staffers are dwindling, and there have even been rumors that staffers have a betting pool on who will get the axe next. I don't know who hedged their bets on McMaster, though?
It does seem like Trump is making moves, possibly to prepare for his meeting with Kim or maybe he doesn't trust everyone in his cabinet? Either way, will it let up soon, or should we be checking Twitter more to see how our White House is shaping up?