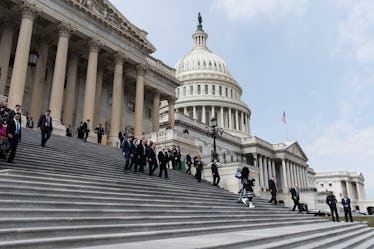 White House Staffers Reportedly Have A Pool On Who Leaves Next, So Lay Your Bets
Pool/Getty Images News/Getty Images
What's that old saying? Life imitates art? Well, in this case life imitates an Saturday Night Live-type comedy sketch. Because believe it or not, word on the street is that reportedly, White House staffers are betting on who gets fired next. Because it's no secret that the Donald Trump White House has been a bit of a revolving door for staffers. This is where we are now, folks.
It seems like Trump staffers are a little in on the joke, though. According to a March 14 tweet by Washington Post reporter Josh Dawsey, it looks like all the turnover in the White House has caused Trump staffers to create their own version of March Madness. The staffers reportedly have a betting pool going around on who will get the axe next. Of course I'd like to imagine some intricate bracket work, maybe with some nice Excel charts, but there's no word on that yet. Dawsey also pointed out how it makes perfect sense that this sort of thing would be happened. He wrote,
White House officials have begun betting pools of sorts among each other on who's getting ousted next. Lot of people who are usually in the know are not in the know. Always fluid in White House but seems particularly so right now.
Then MSNBC reporter Stephanie Ruhle swooped in to say that she had been hearing the same sort of rumour going around.
Elite Daily reached out to the White House for comment on the rumors, but did not receive a reply by the time of publication.
It might sound kind of hilarious to think about a bunch of White House officials putting money into a pool on who's going to get canned, but it actually makes a lot of sense.
In the past couple of weeks, White House officials have been dropping like flies. On Feb. 28 Communications Director Hope Hicks, one of Trump's most trusted staffers, announced she was handing in her resignation just a day after she testified to the House Intelligence Committee that she had told "white lies" for Trump, according to The New York Times.
Just a couple of weeks later Trump gave Secretary of State Rex Tillerson the boot on March 13. The news came from Trump himself, who tweeted that he would be replacing Tillerson with Mike Pompeo, CIA director and former Tea Party congressman. Trump wrote,
Mike Pompeo, Director of the CIA, will become our new Secretary of State. He will do a fantastic job! Thank you to Rex Tillerson for his service! Gina Haspel will become the new Director of the CIA, and the first woman so chosen. Congratulations to all!
According to The New York Times, Tillerson had no idea he was fired until a White House aide showed him Trump's tweet. Apparently, though, Tillerson had received a sort of vague warning from White House Chief of Staff John Kelly, who told Tillerson to cut his trip to Africa short and warned, "you may get a tweet."
Can I just pause here to say, is this really how things work now? I am a normal person with a normal job and I think it would be pretty damn weird if my boss chose to fire me with a tweet. Is this the way of the future?
Finally — three hours after the tweet — Trump called Tillerson from Air Force One to inform him that he was being ousted, according to The New York Times.
Also on the chopping block might be first daughter Ivanka Trump and her husband Jared Kushner. According to the Times, Trump has reportedly asked Kelly for help with "moving them out." His own family, the daughter and son-in-law he brought into the White House immediately and praises endlessly, aren't even safe.
I should also mention, that Trump might reportedly be seeking the help of Kelly to can his daughter and son-in-law, but some reports say that Trump might be saying goodbye to Kelly too, according to Fox News.
And all of this isn't even to mention the 18 other members of Trump's administration that have already left, either via resignation or the classic "you're fired." With even the closest staffers dwindling, is anyone at all surprised that the last survivors are betting on who will be out next?
Admittedly, when I first saw the news I thought for sure that it was some sort of joke. Maybe an Onion article. But in light of everything that has happened and all the news of past and possibly future firings, this is actually a thing that might be happening in the White House.
Just like me, Twitter was kind of living for it. Living for it.
So folks, who do you think is next? Remember not to gamble more than you're willing to lose. Anything could happen, after all.