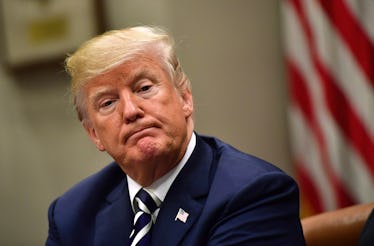 Twitter Is Roasting Donald Trump For This Big Mistake In His Call With Putin
Pool/Getty Images News/Getty Images
To the surprise of absolutely nobody, Russian President Vladmir Putin reclaimed the presidency during the March 18 elections in a landslide "victory." But considering heightened tensions with Russia (not to mention the sketchiness around Putin's election victory), naturally President Donald Trump's team very strongly advised him to not offer his congratulations to Putin on his reelection in a call between the two world leaders on March 20. And yet, Trump did. And the tweets about the "do not congratulate" instructions Trump received are just destroying the president for the call he made to Putin.
On March 20, Trump and Putin had a phone call in which they were meant to discuss a range of topics, including arms control and North Korea, according to The Washington Post. Briefing materials given to the president before the call reportedly had a big, all caps addition — DO NOT CONGRATULATE — warning the president not to congratulate Putin on his shady win.
So what did Trump do? If you guessed "went ahead and congratulated his buddy Vlad anyway," you'd be spot on. According to the Post, not only did Trump go ahead and congratulate Putin on his win, he literally opened the call with it. Good job, Don.
Twitter absolutely ripped Trump to shreds once it was reported that the president went against these instructions.
I mean really, if your national security advisers hand you an order in all caps, generally you should follow that order. But as we've come to learn with Trump, the rules just don't seem to apply to him.
Those advisers probably didn't want Trump to be too friendly with Putin for a number of reasons, not least of which is reports that Putin may well have rigged the election in his favor. According to The Guardian, opposition groups in Russia have highlighted video evidence of voter irregularities including ballot-box stuffing in many voting stations across the country, as well as "statistical anomalies" in which the number of votes cast just doesn't make sense. As CNN points out, Putin won his country's vote by 76.7 percent, which is quite a landslide. Unless Putin was running on a platform of free ice cream and puppies for all, that kind of feels like overkill.
Considering that Trump's presidential campaign is still being investigated for possibly colluding with Russia to sway the U.S. presidential 2016 election in his favor, it was in everyone's best interests for Trump just to stay mum about the situation. But of course, he did not.
Despite his briefing, Trump also reportedly neglected to bring up the poisoning of an ex-Russian spy and his daughter in England on March 4, which Prime Minister Theresa May has accused the Russian government of orchestrating. In response to the attack, May expelled 23 Russian diplomats from England. So clearly this is being taken very seriously by the British government.
Trump expressed his support for May's claims as well, saying that the Russian government is likely responsible for the poisoning "based on all the evidence." However, he has declined to forcefully condemn Russia for it. And now he's congratulating that government's president. OK, then.
One other thing Trump reportedly didn't bring up? Russia's meddling in the 2016 U.S. presidential election. It seems like it would have been something relevant to discuss, but hey, what do I know.
But Trump seemed to think the call had gone well. "We had a very good call," Trump said to reporters in the Oval Office, according to The New York Times. He added that he and Putin "will probably get together in the not too distant future so that we can discuss arms, we can discuss the arms race."
Maybe for the next chat, he'll read his briefing closer.