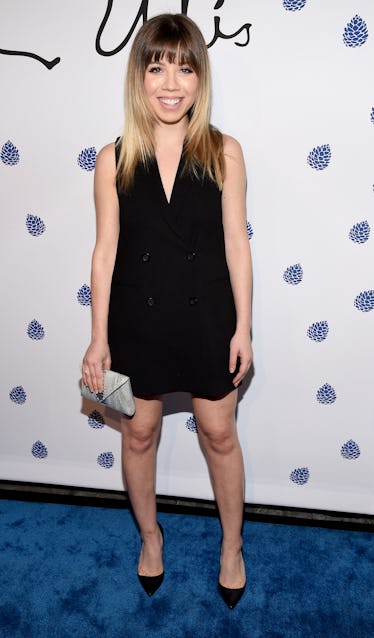 Jennette McCurdy Is Super Tight-Lipped About Her Love Life, But Here's What To Know
Michael Kovac/Getty Images Entertainment/Getty Images
I have mad respect for Jennette McCurdy. The iCarly and Sam & Cat alum is not only funny AF, but she's also gone public about her years-long struggle with disordered eating and her journey toward loving her body. I always find it so inspiring when celebrities use their platform for positive change, and McCurdy has made it her mission to do just that. But as for who Jennette McCurdy is dating, that's a tougher egg to crack. The former Nickelodeon star is pretty private about her love life, but she's reportedly dated a few famous men throughout the years (and no, Nathan Kress isn't one of those people).
When her iCarly co-star (and occasional on-screen love interest) Kress first got together with his now-wife, London Elise Kress, Seddie shippers were none to pleased. "Sometimes people have a little bit of trouble separating reality from a television show," Kress explained MTV News back in December 2015, noting that — after his November 2015 wedding — both his and his wife's Instagrams were flooding with negative comments. "Honestly, the only things that kind of bother me are more the people who will go on London's stuff and say, 'I hate you, you're horrible because Freddie's supposed to be with Sam,'" he added. Yeah, no.
Seddie was never a thing IRL, but here are the guys who McCurdy has actually romanced.
Graham Patrick Martin, 2004-2008
Back in 2004, before her iCarly days began, McCurdy reportedly dated actor Graham Patrick Martin. The two were linked from 2004 to 2008 but never publicly confirmed their relationship. Martin actually appeared on an episode of iCarly as Sam's love interest in 2009 after his reported relationship with McCurdy had ended, so it seems the two are at least on good terms.
Max Ehrich, 2010-2011
McCurdy was linked to another iCarly guest-star in 2010: Max Ehrich. Dating rumors swirled around Ehrich and McCurdy (as well as Ehrich and Miranda Cosgrove, who may have actually dated) after his appearance on the series, but Ehrich later denied those rumors in a April 2016 tweet, where he said McCurdy was "always just a friend." McCurdy never commented on the dating rumors herself.
Paul Glaser, 2011-2013
McCurdy's first major relationship was with a (much older) iCarly writer, Paul Glaser, and though she kept the relationship largely under wraps, fans were quick to criticize their age difference. McCurdy later opened up about the secretive romance during a November 2015 interview with Vulture. "People online would make very rude comments about him and say, 'What a creep to have had an eye on her for so long.' But they didn't know the whole story," she said. According to McCurdy, Glaser didn't join the team until iCarly's final season, which is when they met. The two started dating soon after she received news of her mother's cancer recurrence, and McCurdy broke up with him two years later when it became clear her mom wouldn't recover.
As she explained to Vulture, she didn't want Glaser to be tied to her mom's death. "I needed to go through that loss on my own," she said. "I felt that I would put too much of myself into another person and become very attached. I thought, 'Oh, if I share this loss with someone, and I share this part of myself with someone and this reality with someone, then they become my reality.' And that thought scared me."
Andre Drummond, 2013
Though McCurdy's relationship with Andre Drummond was short-lived, it was one of her most public. In September 2013, she even wrote an essay for the Wall Street Journal about falling in love with Drummond before they even met in person. The NBA star first got McCurdy's attention when he called her his "Woman Crush Wednesday" on Instagram in July 2013. "I found it sweet, gutsy, and flattering," said of his tweets in her WSJ essay. "It's hard not to be impressed by a boy who will express his feelings for you in front of hundreds of thousands of people." The two began corresponding via DM and eventually met up in person.
Though the two had great virtual banter, their connection apparently wasn't as great in person. During a March 2014 appearance on Pete Holmes' podcast, You Made It Weird, she said their first kiss was anything but romantic. "My first kiss with him was after we had gone laser tagging," she said. "I stood on a chair… I sort of went for it. But it wasn't great. It didn't go great. No sparks and the mouth… the shapes weren't right." However, since their online courtship had already gotten so much attention, McCurdy felt awkward ending things, and the two went on to date for a month.
Not long after the podcast appearance, pics of McCurdy wearing lingerie were leaked online, and fans speculated that Drummond was behind the leak. In response to rumors, McCurdy wrote in a since-deleted tweet, "To anyone disappointed: I sent those pics to 1 person. You can connect the dots. Shocked someone would stoop so low. I just speak w/ candor." Drummond swiftly denied involvement, tweeting, "For all the speculations about leaking anything, I have nothing to do with it. I'm focused on basketball. Thank you."
Jesse Carere, 2014-2016
Following her fling with Drummond, McCurdy began romancing her Between co-star Jesse Carere. She opened up about the relationship during her November 2015 interview with Vulture, at which point she'd been dating Carere for about a year. "This is maybe staking a big claim in my future self, but I would say that I certainly love him right, you know?" she said. "I feel like I'm learning to love in all the right ways and to accept love for who I am versus an impressive version of myself."
The two were seemingly still an item in June 2016, when McCurdy wished Carere a happy birthday with a sweet message, but the two reportedly ended things soon after, and she's since deleted all pics of them together from social media.
At the moment, McCurdy seems to be enjoying the single life, but as she likes to keep her love life on the low-down, fans can't know her current relationship status for sure.
Editor's note: This story has been updated to reflect recent developments in McCurdy's life.
This article was originally published on