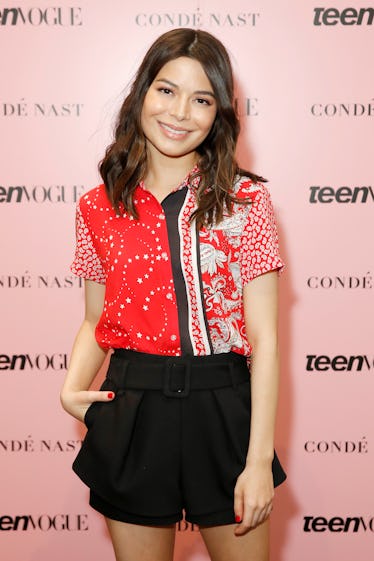 Miranda Cosgrove's Relationship History Includes A Few Unexpected Exes
Rachel Murray/Getty Images Entertainment/Getty Images
Since her iCarly and Despicable Me days, Miranda Cosgrove has kept a relatively low profile. After her hit Nickelodeon series wrapped in 2012, the actor became a student at University of Southern California, and as a result, Miranda Cosgrove's relationship history is a bit of a mystery. Now that Cosgrove is reprising her role of Carly Shay for the Paramount+ iCarly revival, fans are eager to know more about her super-secret love life. If Cosgrove is dating anyone at the moment, she's keeping it on the DL, but she's reportedly romanced a few familiar faces in the past, including Demi Lovato's ex-fiancé and your fave Netflix boyfriend.
Though I don't know much about her dating life, I do know that Cosgrove's relationship with Jennette McCurdy still seems rock-solid. During a December 2017 interview with AOL Build, Cosgrove gushed about their close bond. "We live really close to each other. We have sleepovers all the time. Like, I literally see her every other day," Cosgrove said of McCurdy. Um, love that.
Here's what little I do know about Cosgrove's romantic past (and sorry, Creddie shippers, but it doesn't seem like Cosgrove and her iCarly co-star Nathan Kress were ever a thing).